I love when I try something for the first time and it turns out perfect. That's this pizza, outside on our grill. Who knew how easy and tasty it is that way? Not a woodfired oven, just on our 25-year old ancient but still ticking gas grill. The crust is charred and perfectly crispy and chewy at the same time. Grill some veggies beforehand, add some pesto and cheese and you've got this amazing Grilled Pesto and Veggie Pizza.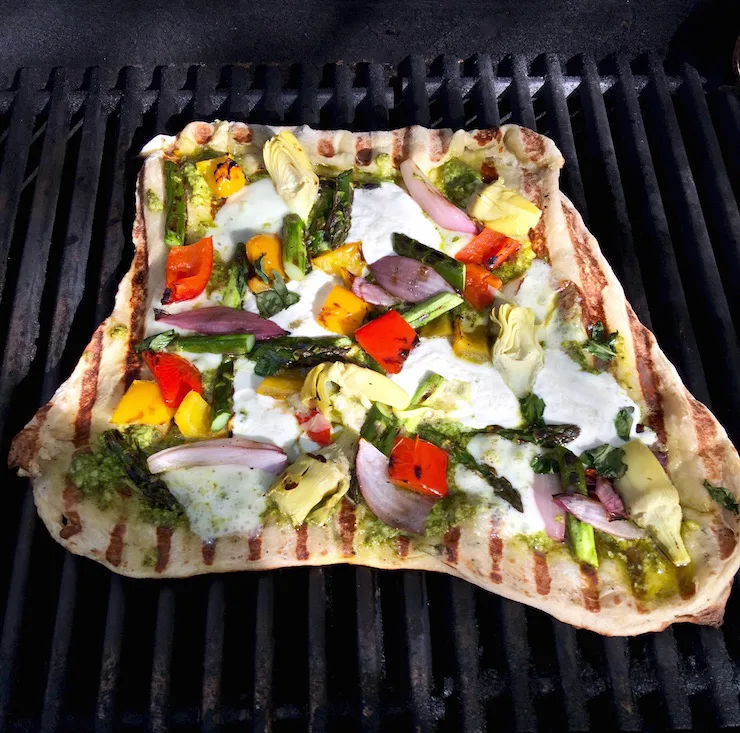 First, I grilled red and yellow peppers, asparagus, red onion and some artichoke hearts. Drizzle with a little olive oil and salt and pepper and toss on the grill until charred and tender. Or use any vegetables you want, just grill them first. Easy, peasy.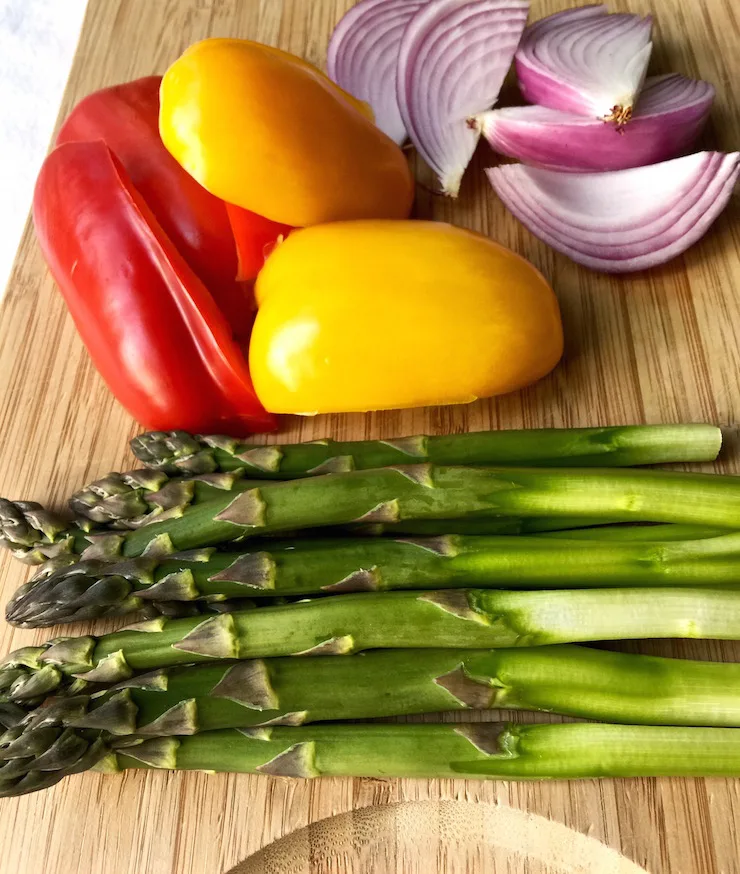 Just free form the dough into a round or oval shape, careful not to go too thin or it will tear and stick to the grill. The dough will easily flip once it has cooked and set some, you'll need to be armed with a spatula and tongs to do this.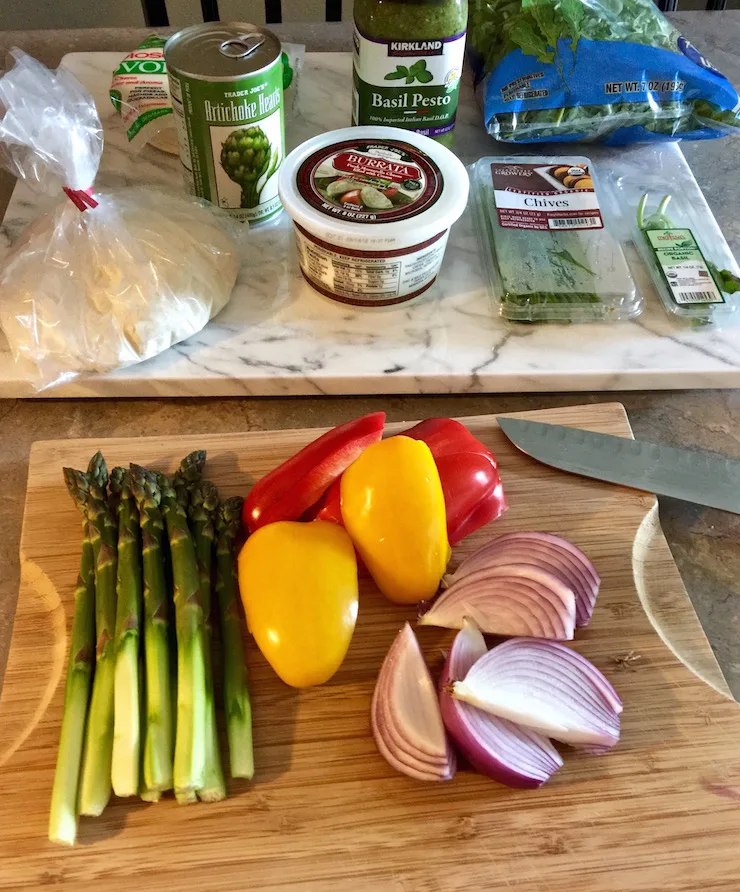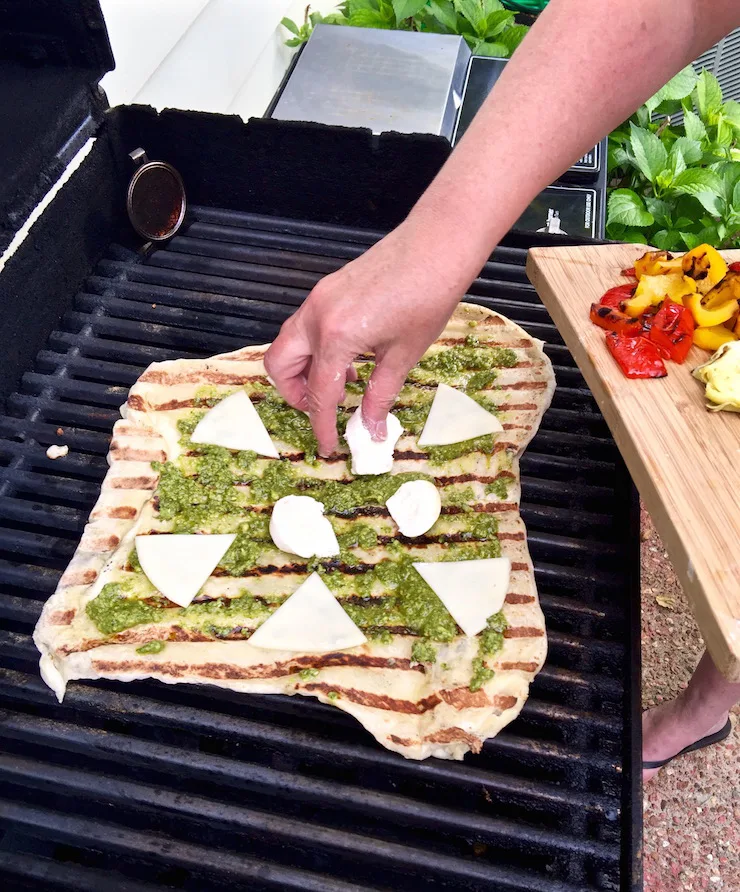 Pesto, yum, and there are some really good store bought ones out there. Or you can make your own, for sure. I chose a good jarred pesto that I like. And for the cheese, I used burrata and provolone. That's it. Oh I forgot, add some baby arugula, a drizzle of olive oil and a bit of sea salt.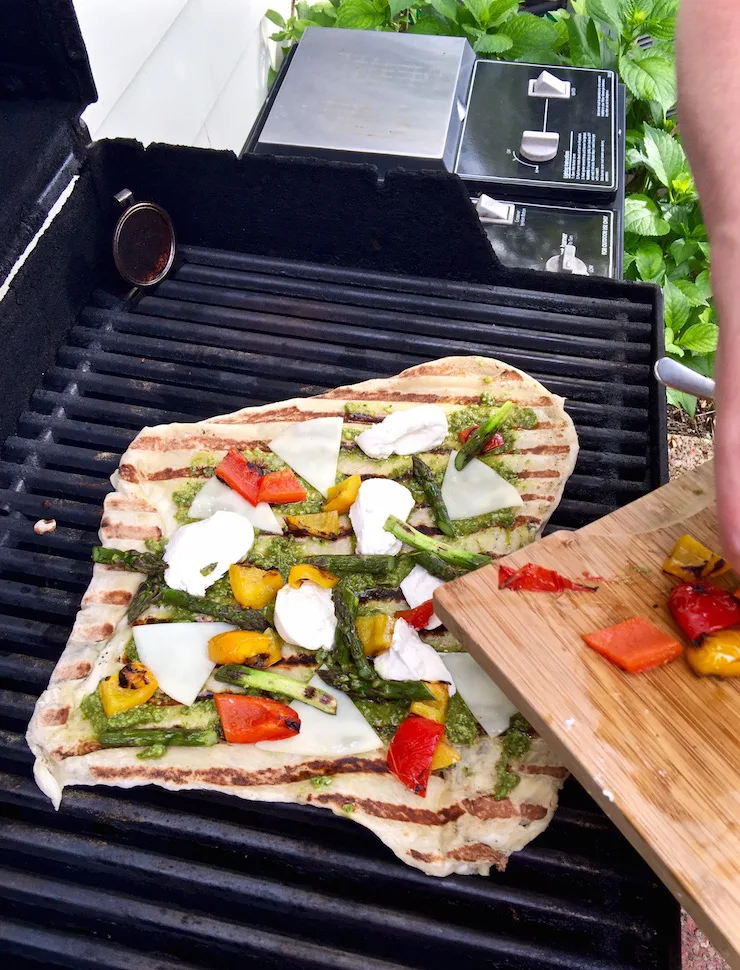 The key to success here is a very hot grill and having everything ready and close at hand before you put the dough on, it goes quickly. Grilled Pesto and Veggie Pizza, tastes like summer. And experiment with other ingredients, here are some more ideas for Grilled Pizza.
Best, Kelly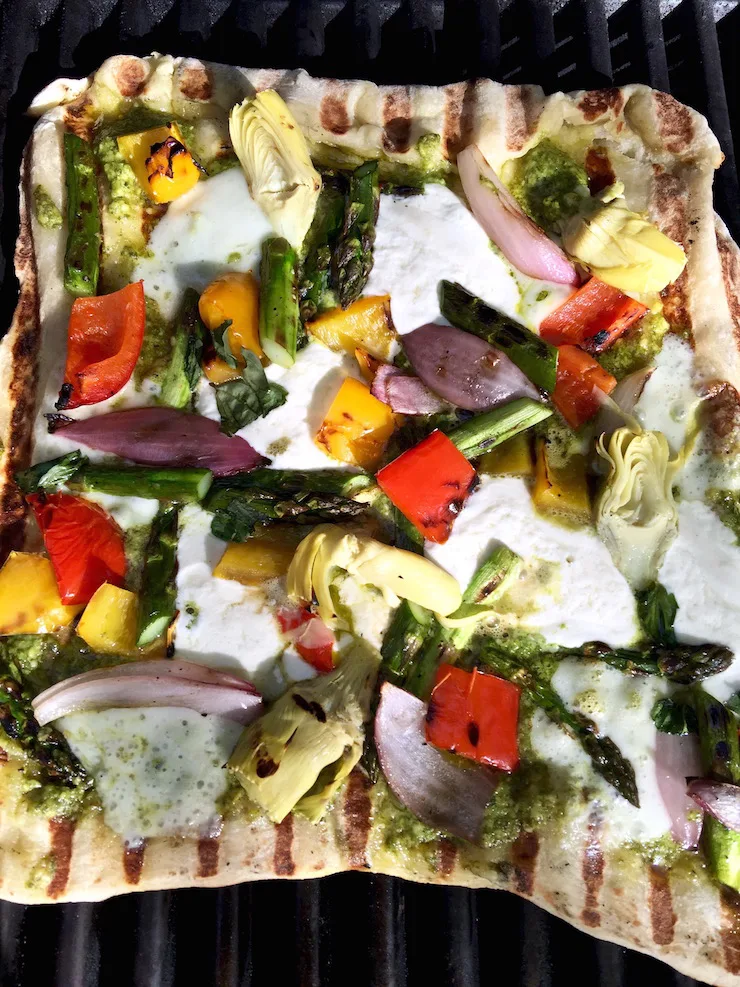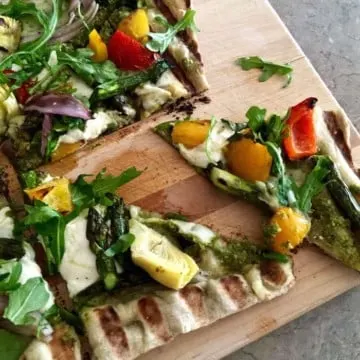 Grilled Pesto and Veggie Pizza
Pizza on the grill with pesto and veggies ~ and grill marks! Skip the oven for this one.
Print
Pin
Rate
Ingredients
½

red bell pepper, cut into larges wedges

½

yellow bell pepper, cut into large wedges

1

small red onion , cut in large wedges

12

asparagus spears, tough ends peeled

Several canned artichoke hearts, drained and dried with a towel

Olive oil

Sea salt and fresh cracked pepper

½

cup

pesto, or more, store-bought or homemade

1

ball burrata cheese, drained, sliced (or fresh mozzarella)

2

slices

provolone, cut into triangles

Handful of baby arugula (rocket salad)

1

pound

ball of pizza dough, store-bought or homemade

Torn basil leaves, optional
Instructions
Heat grill, gas or charcoal. Drizzle vegetables with olive oil and sprinkle with salt and pepper. Arrange evenly on moderately hot grill and cook until charred and tender, turning frequently. Remove and set aside. Cut peppers and asparagus into bite-size pieces. Set aside on on plate.

For a gas grill, heat 2 outside burners on high and the middle burner on medium. Clean well with brush and lightly brush grate with olive oil.

Have pesto, cheese and grilled veggies all ready and handy before you put the dough on the grill. It goes fast.

Prepare dough. On a flat surface shape into a large round, being careful not to go too thin that it will tear. It does not have to be perfectly round. Lightly brush or drizzle top side with olive oil. Carefully place on grill, oiled side down. Let cook a few minutes to set, get some good grill marks but be careful not to burn. Drizzle a little olive oil on top. Using a spatula and tongs, flip the dough.

Working quickly, spoon on the pesto as evenly as possible. Add the burrata and provolone slices, then the grilled veggies. Close lid and cook about 5-6 minutes. When cheese is melted and dough is done, remove to a cutting board.

Sprinkle with a little sea salt. Toss on some arugula and drizzle with a little olive oil. Cut into wedges and serve immediately.
Recipe Notes
Since grilled pizza doesn't take long at all, make sure the toppings are cooked to your liking first.
Nutrition
Calories:
564
kcal
Carbohydrates:
74
g
Protein:
18
g
Fat:
23
g
Saturated Fat:
6
g
Polyunsaturated Fat:
1
g
Monounsaturated Fat:
1
g
Cholesterol:
12
mg
Sodium:
1425
mg
Potassium:
284
mg
Fiber:
5
g
Sugar:
13
g
Vitamin A:
2092
IU
Vitamin C:
68
mg
Calcium:
191
mg
Iron:
5
mg