My great-grandparents lived in a German neighborhood on the northwest side of Chicago. My Granddad loved the food at an Italian restaurant he frequented. When he asked how to make the spaghetti and ravioli, the restaurant owner wouldn't divulge the recipes. So Granddad invited him out for a drink and managed to get him drunk, well, they were probably both drunk. The Italian restauranteur spilled the beans to both recipes, the ravioli and the spaghetti. My great-grandfather seems to have renamed the spaghetti dish to Granddad's Spaghetti. There is some debate in my family but I reached the conclusion that the ravioli became known as Nana's Ravioli. Although, according to my mom and aunt, Nana did all the cooking for these two dishes. So that's the story of how Nana's ravioli came to be, via a drunk Italian spilling his secrets to a drunk German.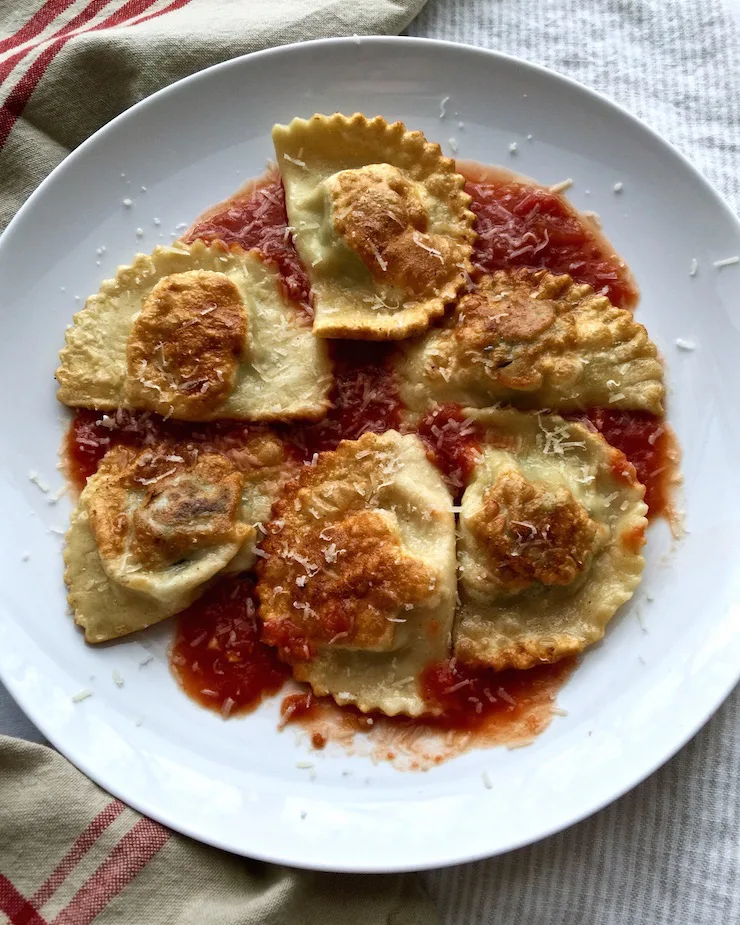 My Aunt Nancy really is the only one in the family still making these raviolis. We have had them many a Christmas Eve. I tried to follow some notes from my mom on how to make them, way too difficult to figure out. So, I went home to Chicago in September to have my aunt teach me how to make Nana's ravioli. And now I know. We had so much fun in my mom's kitchen, the three of us telling stories and making ravioli. I was taking notes and pictures, and before I knew it, we had made and boiled over a 100 ravioli, we lost count. The next day, my aunt, uncle and cousins came for ravioli. They were delicious, just as I remember them.
There are basically three parts to these ravioli: the sauce, the meat/spinach filling, and the dough. Once finished with those three parts, there are four more steps: rolling and cutting the dough, filling and sealing the raviolis, boiling them for 20 minutes, and lastly, and this is what makes them so good, frying the raviolis in butter, lots of butter, until browned and crispy around the edges. Yep, it's an undertaking, and one I wanted because I am the fourth generation to make Nana's ravioli. It's important to keep these family recipes and stories going, by teaching each new generation how to make family dishes.
Some of the stories my mom and aunt were telling were a stitch, and some, one would remember a certain way that differed from her sister's memory, or even scarier, some things just weren't remembered, and we just laughed. They remembered Nana saying the dough was ready when it felt like velvet, my aunt says it should feel like a baby's butt. My Aunt Nancy also remembers being afraid of Nana, she had scolded her for not grating cheese correctly. And we talked about frying the raviolis, people seem to think that's strange. A good friend of my parents, Roy Camboni, has said these are the only kind of ravioli he grew up with and ate all the time. Roy's father had a pushcart filled with Italian foods that he hawked in the old Italian neighborhood in Chicago. It's definitely NOT breaded and fried ravioli nor the infamous toasted ravioli so popular here in St. Louis.
Lastly, I leave you with this gem. My mom and aunt remember going to Granddad and Nana's for raviolis on Sunday, and they were always served with fruit cocktail, out of a can. My aunt remembers added grapefruit. Really, what kid would like that? My mom said to me, "Kelly, no bread, no green salad, just her canned fruit cocktail, can you imagine that?? Terrible combination!"
Ready to get started? It's a long post but these raviolis are worth it. And it makes a lot of raviolis, the recipe is for a restaurant. The freezer is your friend. Let's get to it, with pictures to help illustrate the process.
Best ~ Kelly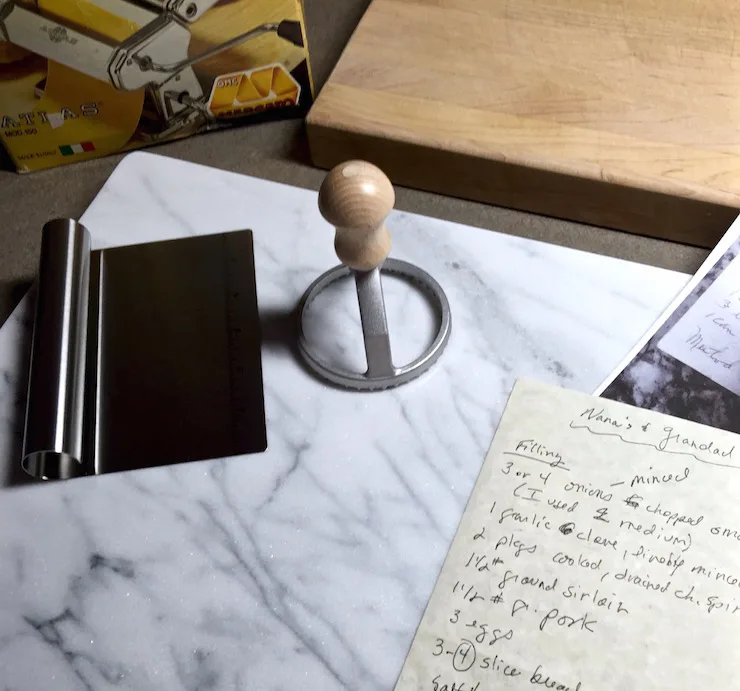 Nana's Ravioli
Makes a lot, guessing 120 raviolis, at least
Equipment
Hand-crank pasta roller (Atlas) or pasta attachment for stand mixer
3.15-inch round ravioli stamp/cutter, or 3½-inch round cookie cutter (My aunt has a 4-inch cutter/stamp, it looks antique, you'll never find one like it)
Bench scraper
Pastry board or granite/marble counter tops
Large pan with slots, to drain boiled raviolis (I used my broiler pan, clean because I've never used it!)
Ingredients
Sauce:
3 large (28 oz.) cans tomatoes, preferably San Marzanos, crushed well by had, any hard stem tops removed (Okay, first debate. My aunt uses tomato sauce, she says the sauce is completely smooth. The recipe card of my grandmother says tomatoes, finely chopped. I used tomatoes, my aunt uses sauce, just sayin')
1 can tomato soup (about an 11 ounce can, I used Campbell's)
1 can beef bouillon (same can size as for tomato soup, Campbell's)
3 medium onions, or 2 if large, finely chopped in the food processor, it will look pulpy
3 garlic cloves, finely minced
Kosher salt
Filling:
1½ pounds lean ground beef (I use ground sirloin)
1½ pounds ground lean pork
2 boxes frozen chopped spinach or 2 lbs. fresh spinach, cooked and drained
2 - 3 small onions, finely minced in the food processor, like for the sauce
1 clove garlic, finely chopped
3 eggs
3 or 4 slices white bread soaked in water, then squeeze out water and tear into small pieces (When ready for the bread, Aunt Nancy just ran each piece under the faucet, squeezing out excess water, then tearing up into pieces for the mixture. That's what I did also)
Kosher salt and pepper, to taste
Pasta Dough:
9 eggs
9 half-eggshells of water (Yes, that is correct, the measuring device is half an eggshell)
Salt
"A good chunk of butter," guessing about 2 - 4 tablespoons, softened
6 cups of AP unbleached flour, more for less, and some for dusting
Method
Sauce
Debate number two: Is it called sauce or gravy? Aunt says sauce, mom says gravy. I think it's gravy, but I will defer to my aunt and call it sauce. I think gravy is a Chicago thing.
In a large pot or Dutch oven, drizzle a little olive and heat until shimmering. Add the minced onions and stir to coat, season with a good pinch of salt, and cook for about 2 to 3 minutes, stirring often. Add garlic, and cook another 30 seconds until fragrant.
Add the crushed tomatoes, tomato soup, beef bouillon and bring to a boil. Season with a little salt, put a lid on, turn heat down way low to a simmer, and cook 1½ hours. Sauce is done.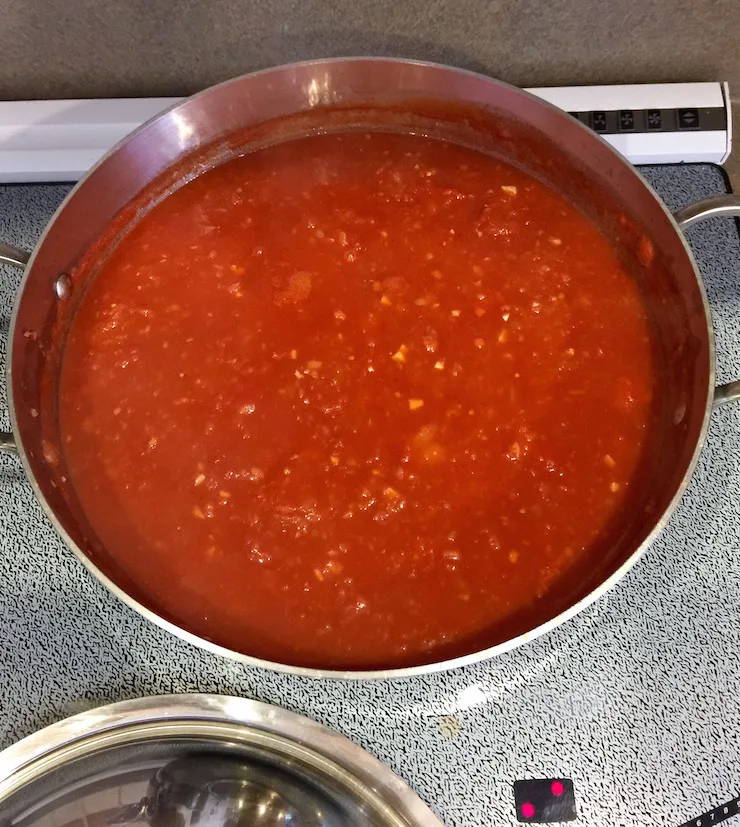 Filling
In a very large bowl, mix beef and pork with chopped spinach, using your clean hands. Add minced onion and garlic, 3 eggs, 4 slices of soaked bread, roughly torn, and a generous pinch of salt and some pepper. Using your hands, mix and combine thoroughly. Set aside or put in refrigerator, covered until ready to make ravioli. Filling done.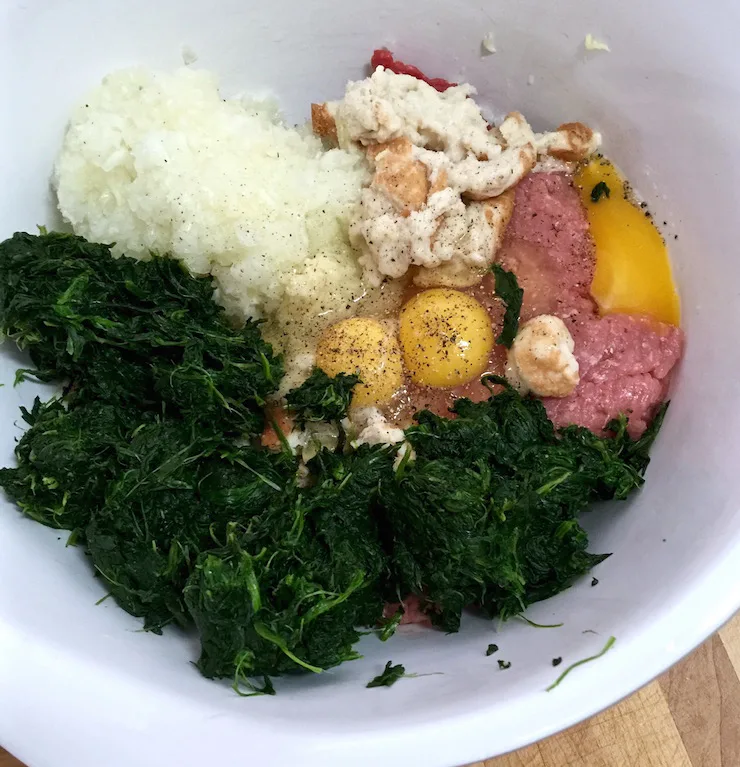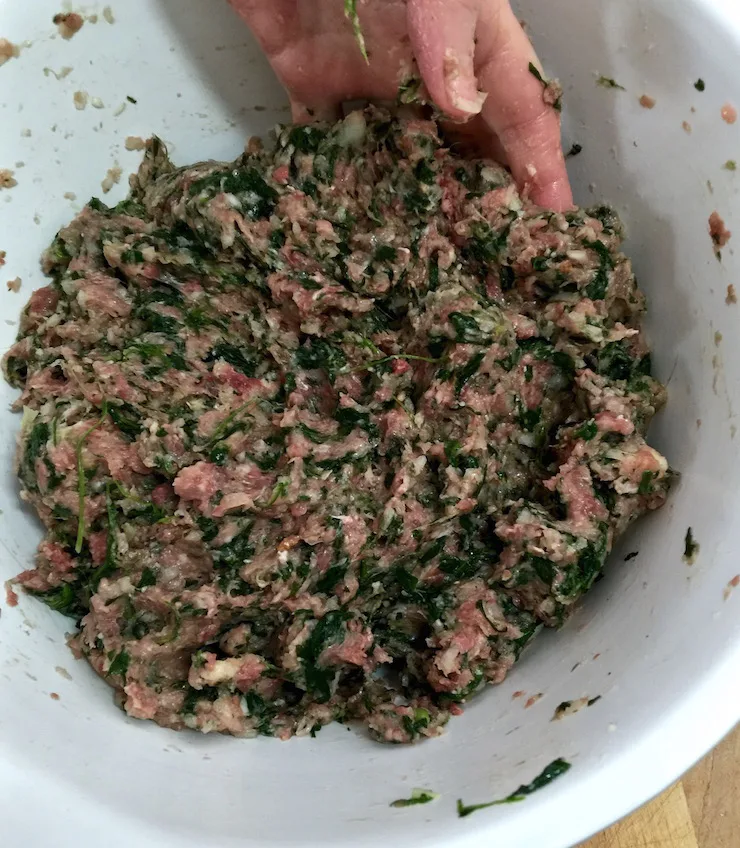 Dough
Start with 6 cups of flour and make a big well in the middle. Crack 9 eggs in the well, add 9 half-eggshells of water and a good pinch of salt. With a fork, start mixing the eggs and incorporating a little flour at a time from the edges. When it is a craggy mess, add the good chunk of softened butter and switch to the bench scraper and your hands to scrape flour and fold it into the dough. It should come together into a ball. With the heel of your hand, press into the dough, pushing forward and down, turn dough and repeat this kneading process. You're looking for that velvet/baby butt texture, smooth and elastic.
Note: My aunt uses a large bowl and she whisks the eggs, water and salt and then slowly whisks in flour, a cup at a time. She switches to a spoon and then adds the butter before she goes in with her hands. Mix dough either way.
Wrap ball in plastic wrap and let rest on the counter for 30 minutes.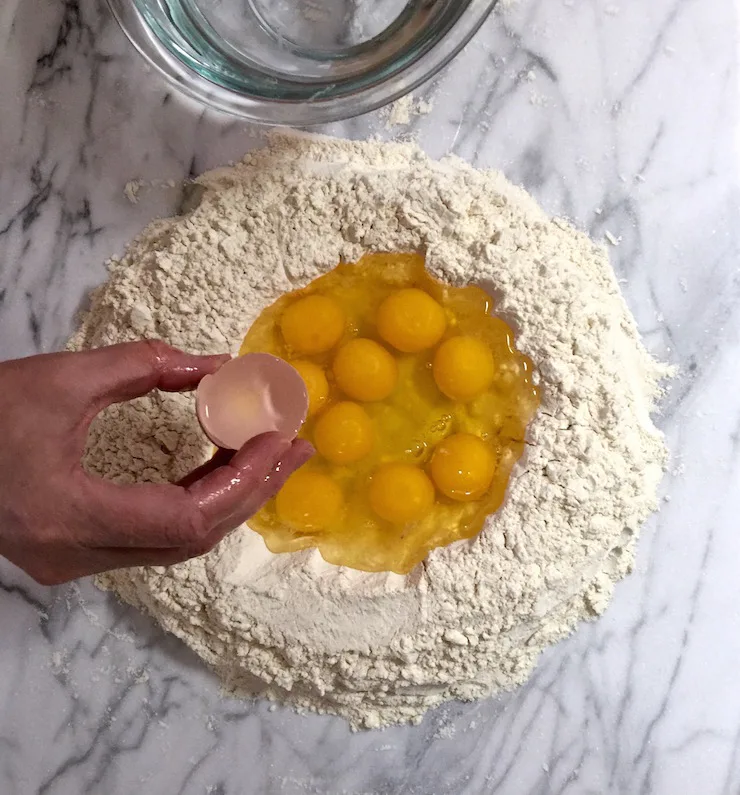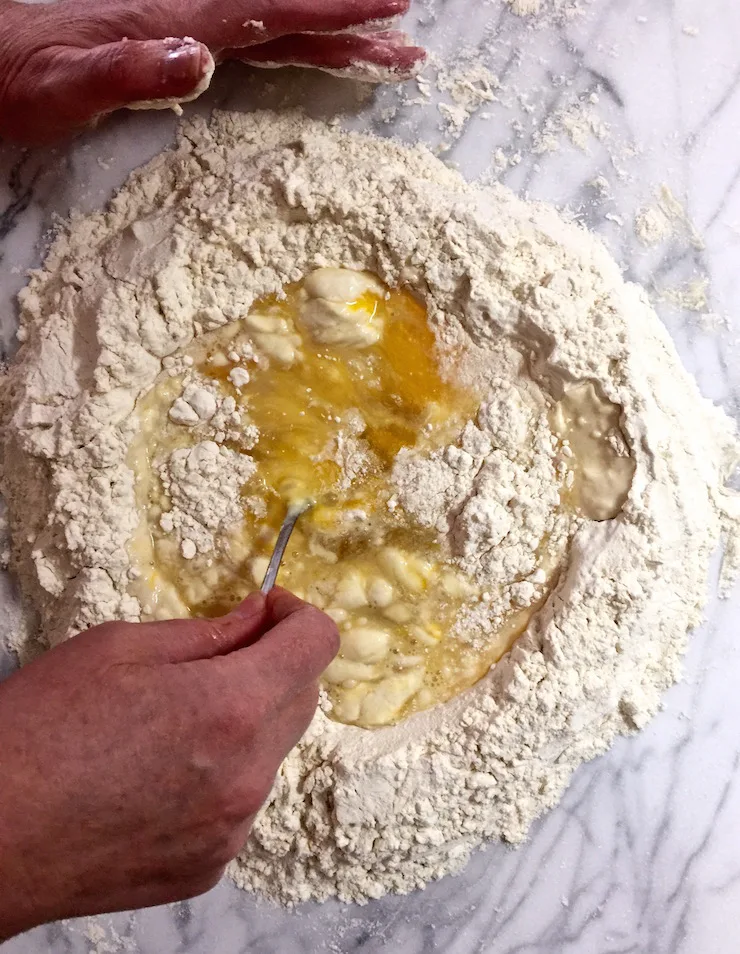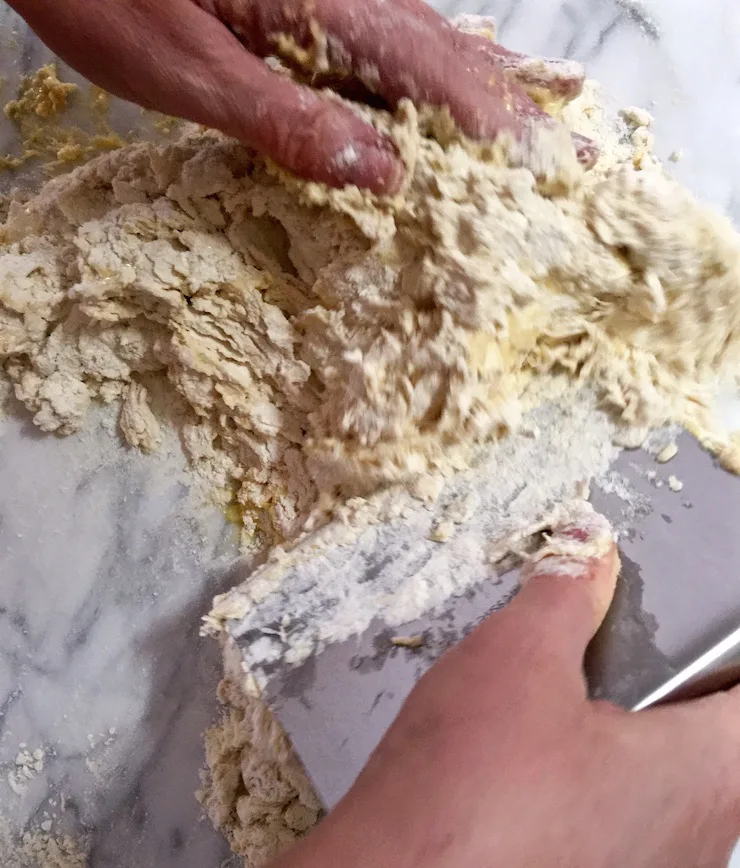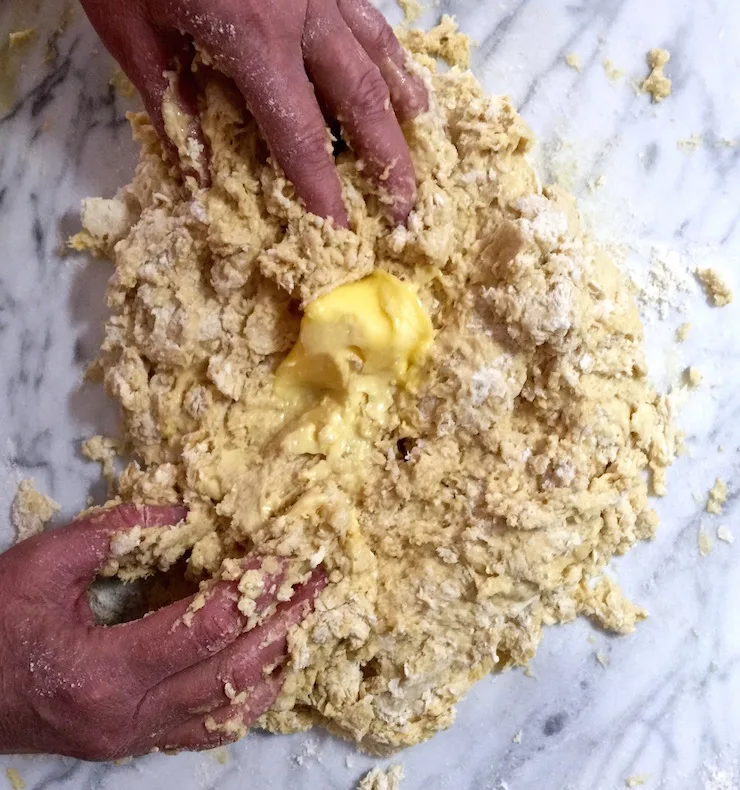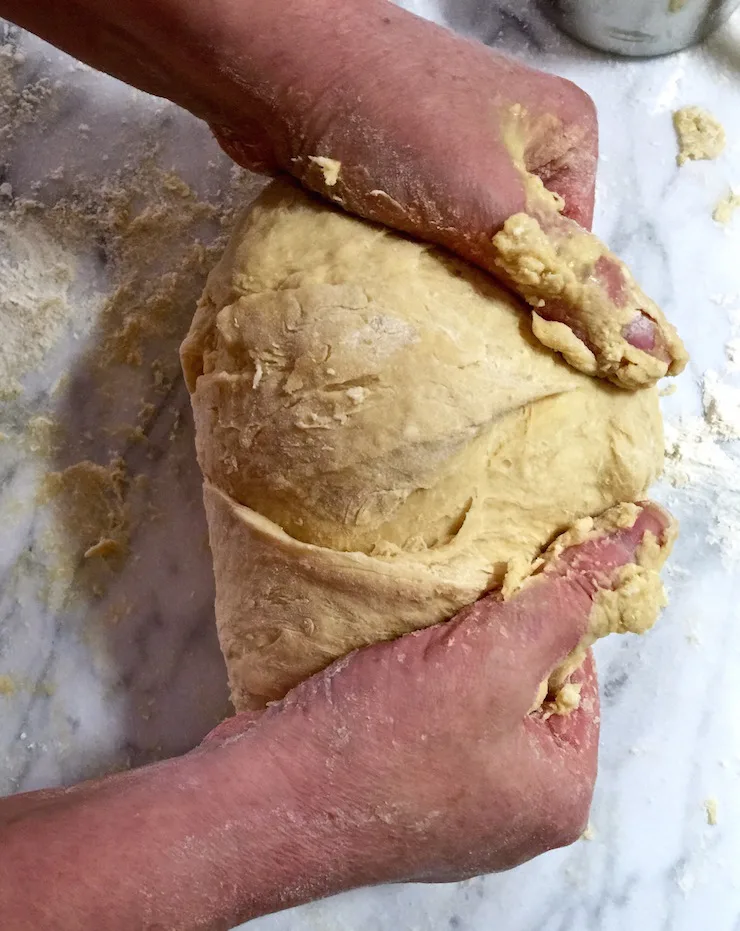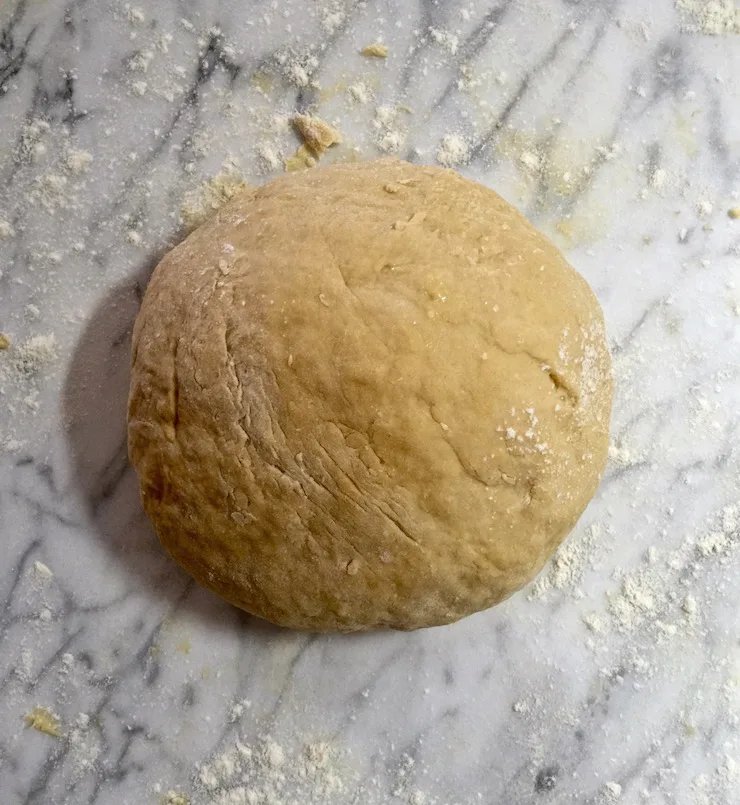 Make Raviolis
Divide dough into 5 or 6 sections, work with one section at a time, keeping the remaining wrapped in plastic. On a lightly floured pastry board, roll out one section into an oblong piece of dough. Starting on the lowest setting (1) roll dough through machine. Take dough and fold in thirds, roll again, and pass through setting (1) again. Turn up to setting (3) and run dough through machine. It should be getting long and elastic. Run through (3) again. At this point I cut the long sheet of dough in half so I could work with it easier. Turn up to setting (5) and run each piece through this setting twice. The dough should be thin and you can almost see your hand through it. Any thinner and it's very hard to work with.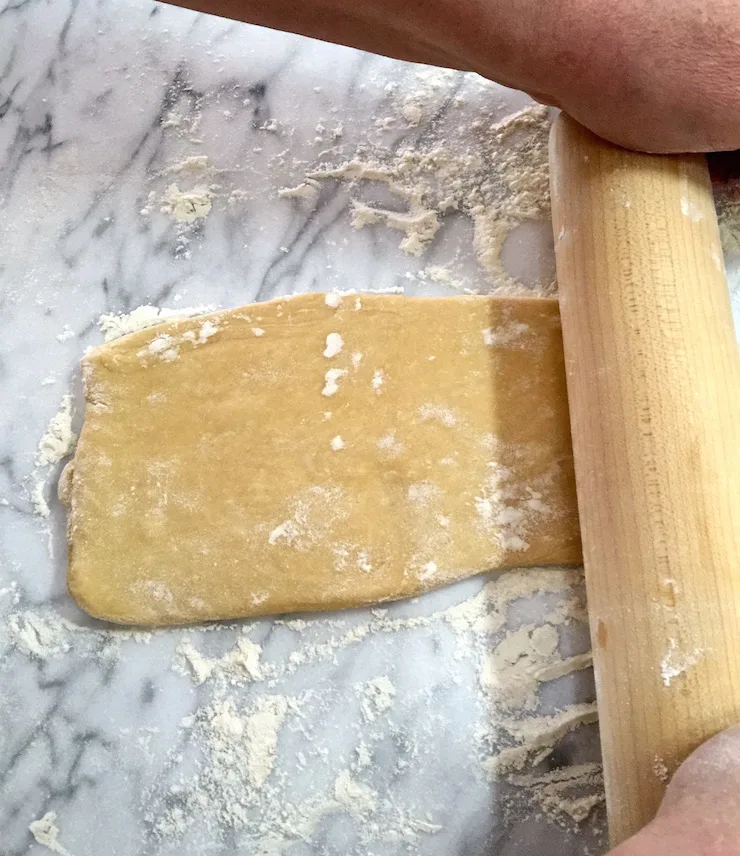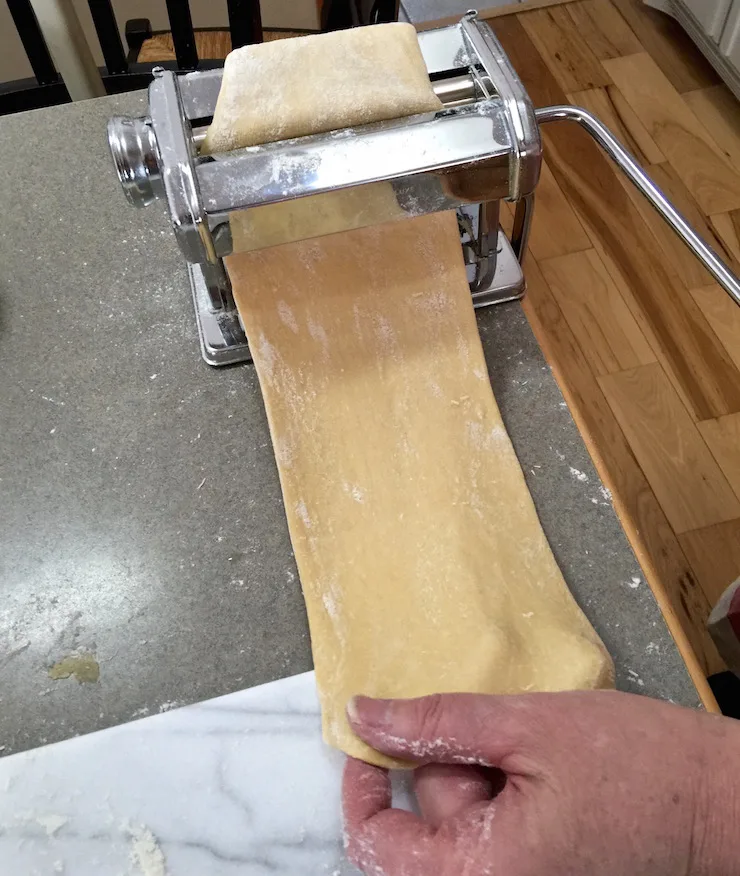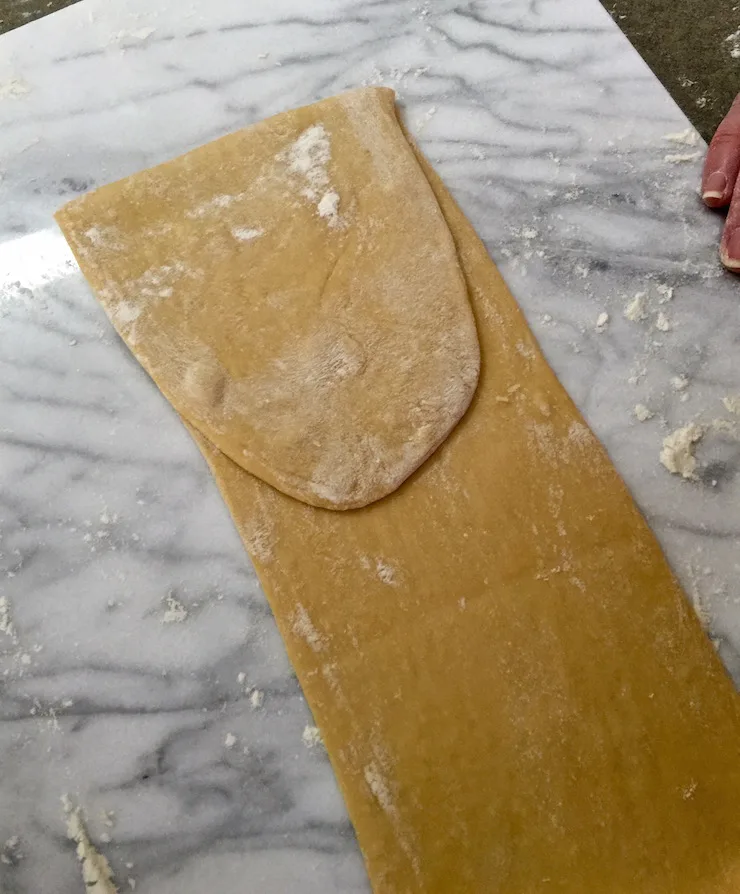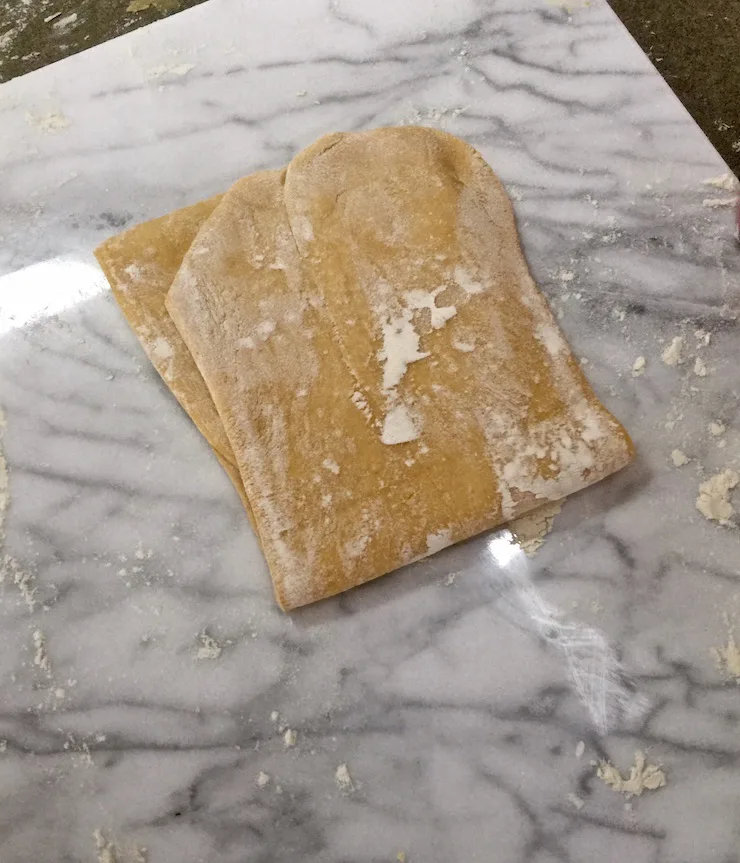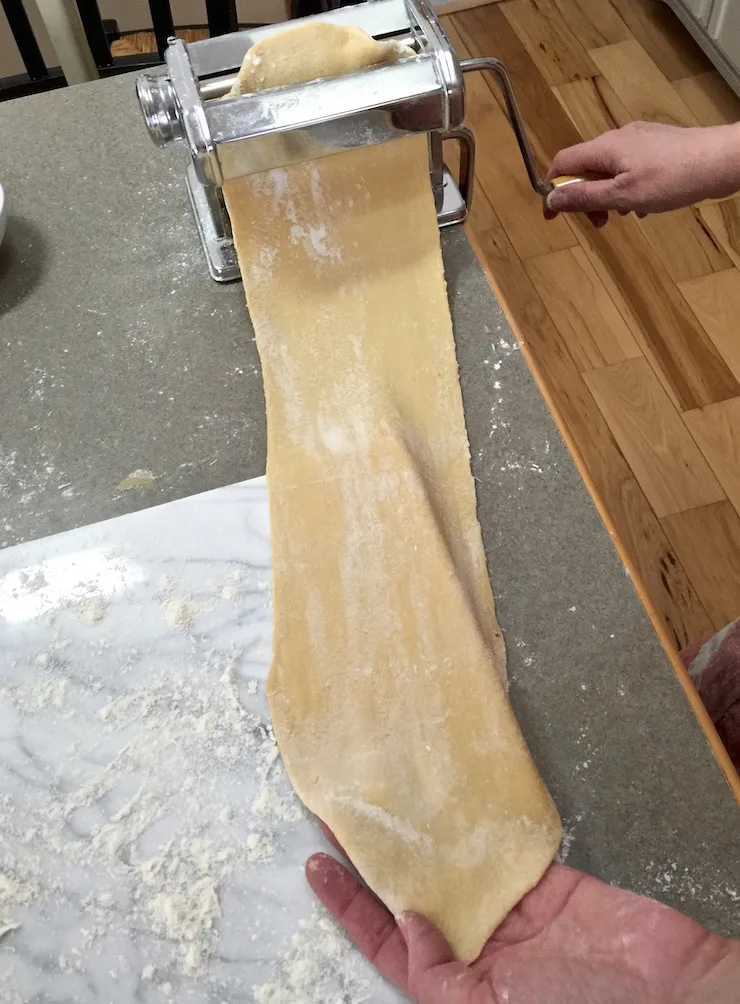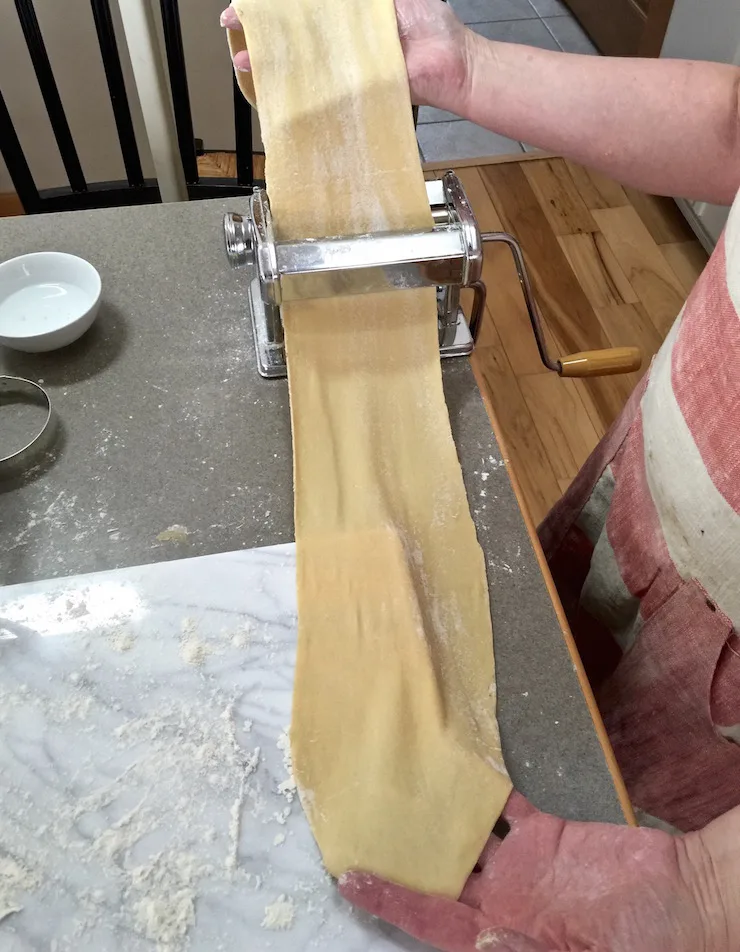 Using the round cookie cutter, cut circles out of dough. Place about a teaspoon of filling in the middle. Wet finger with water and run around half the edge. Fold dough in half to form a half moon, pinching dough together and sealing well. Try and push and seal away from the filling to avoid air pockets.
Place half moon on counter and crimp edges with a fork. Place finished ravioli on a sheet pan lined with wax paper and lightly floured.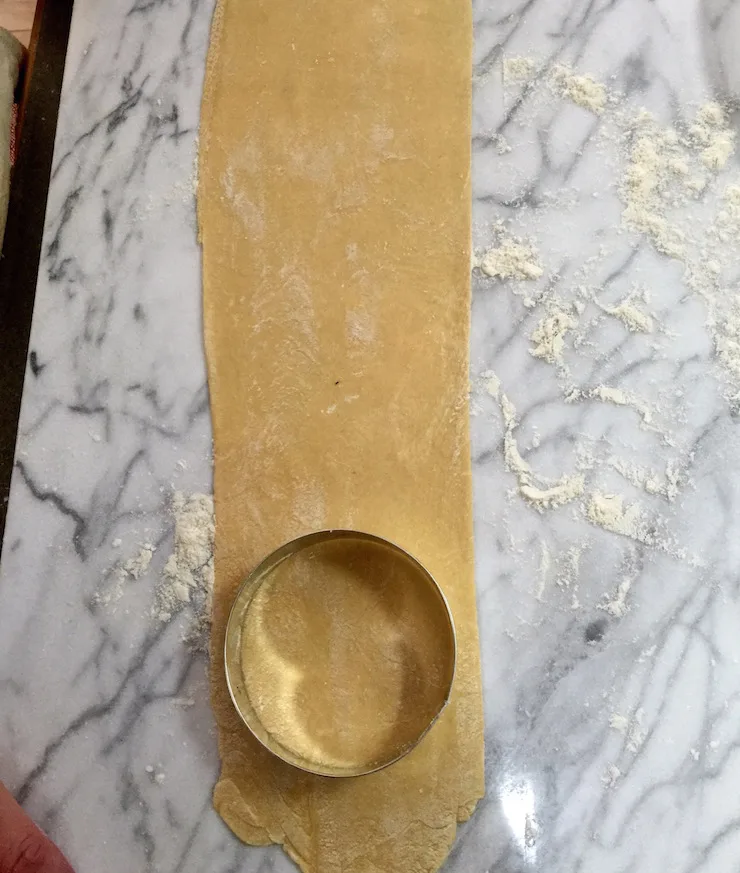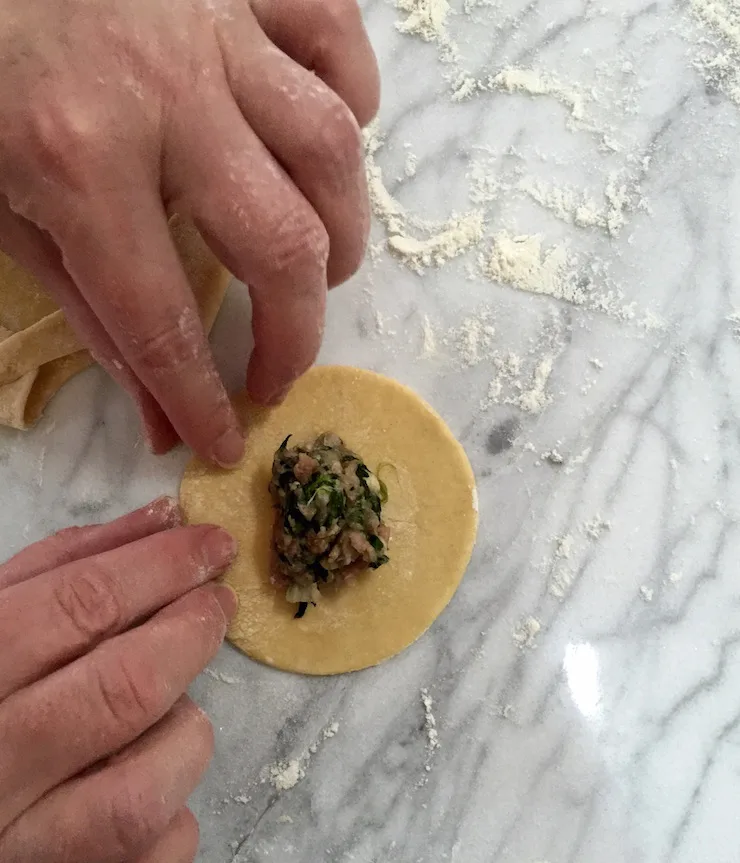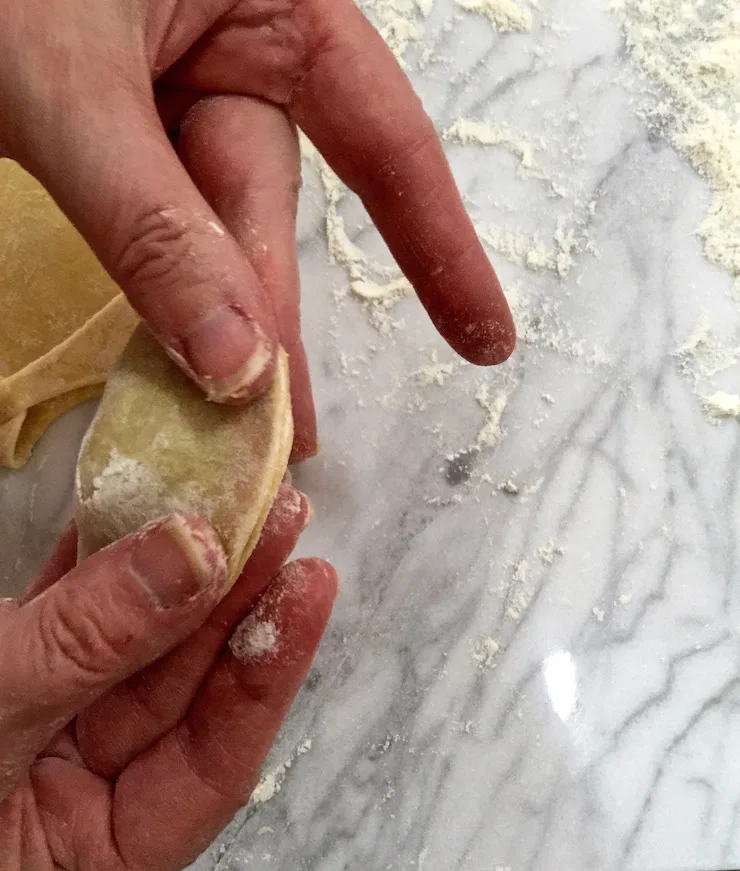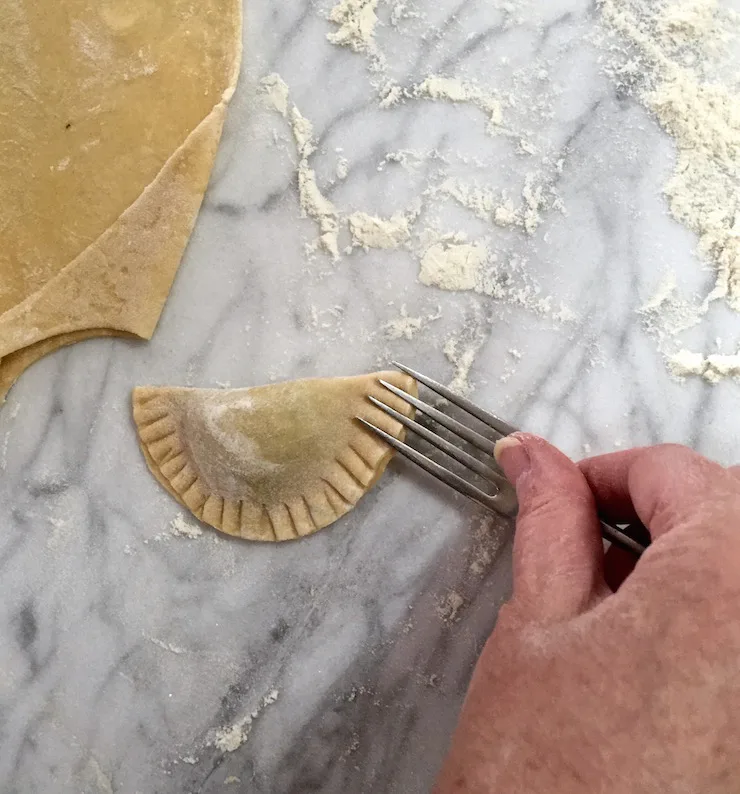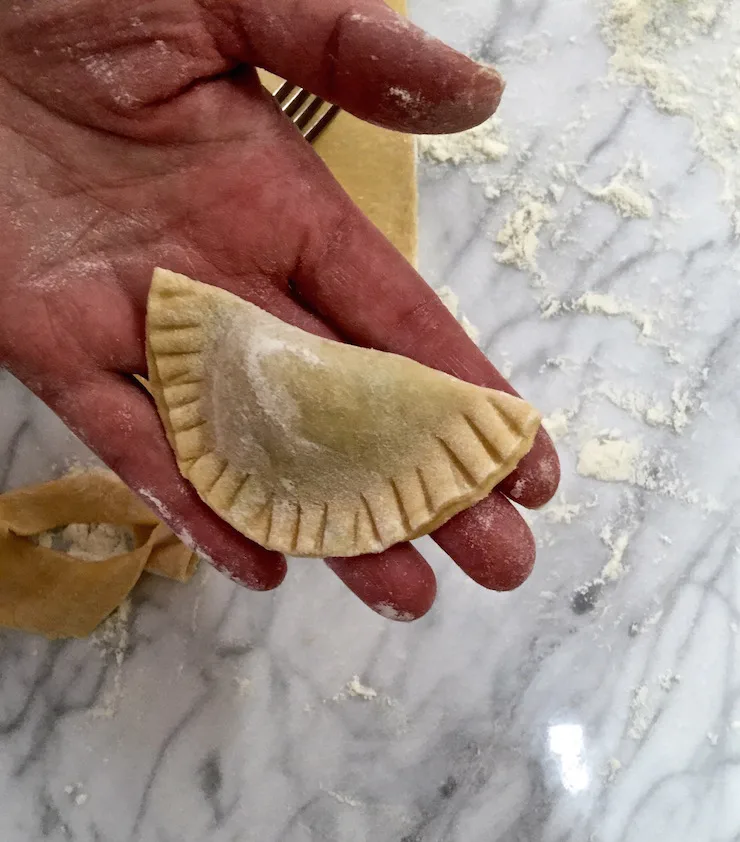 Another way to cut the ravioli is to take the 3-inch stamp and gently press the rounds in a row for a guide, don't cut all the way through. Place the meat mixture in the middle, wet half the circle with your finger, fold the dough over itself and push down to seal, again trying to avoid big air pockets. Take the stamp and cut a half moon along the seam side, using half of the round stamp. Like this: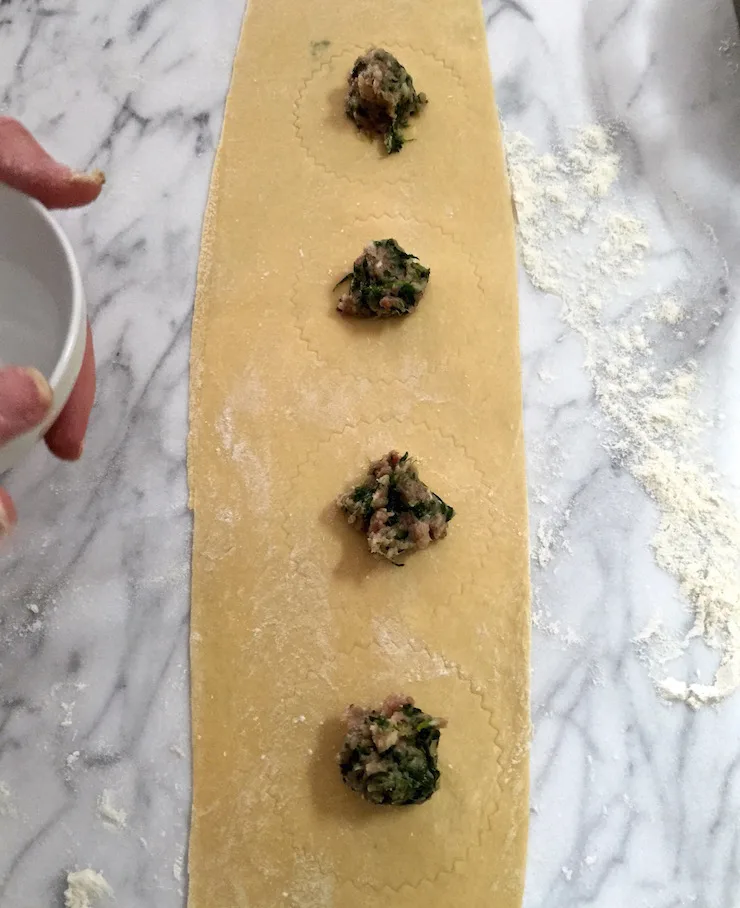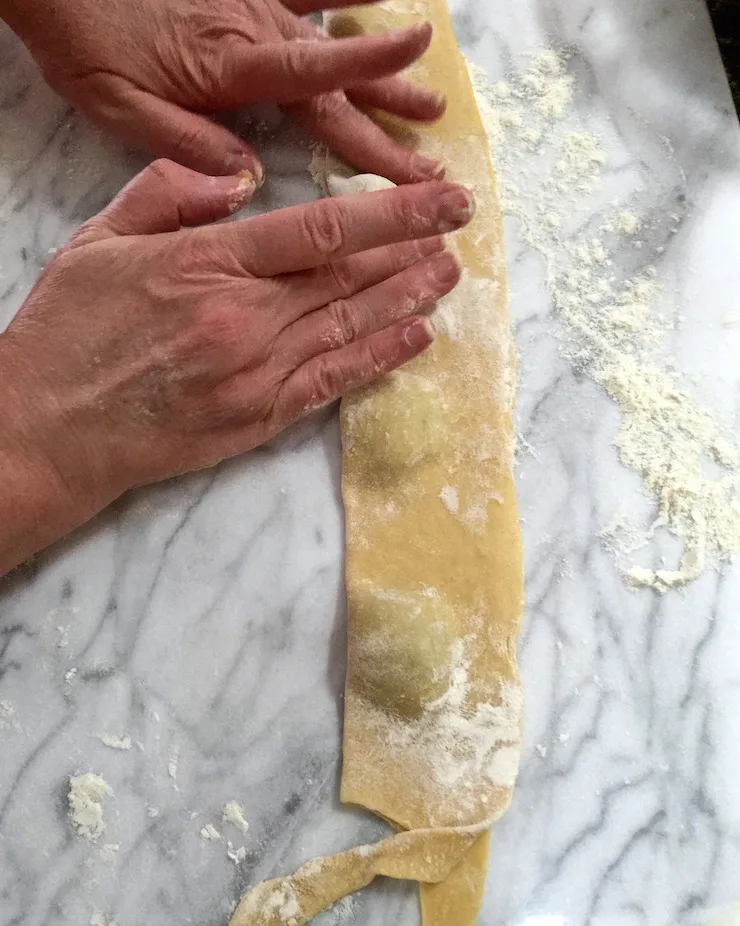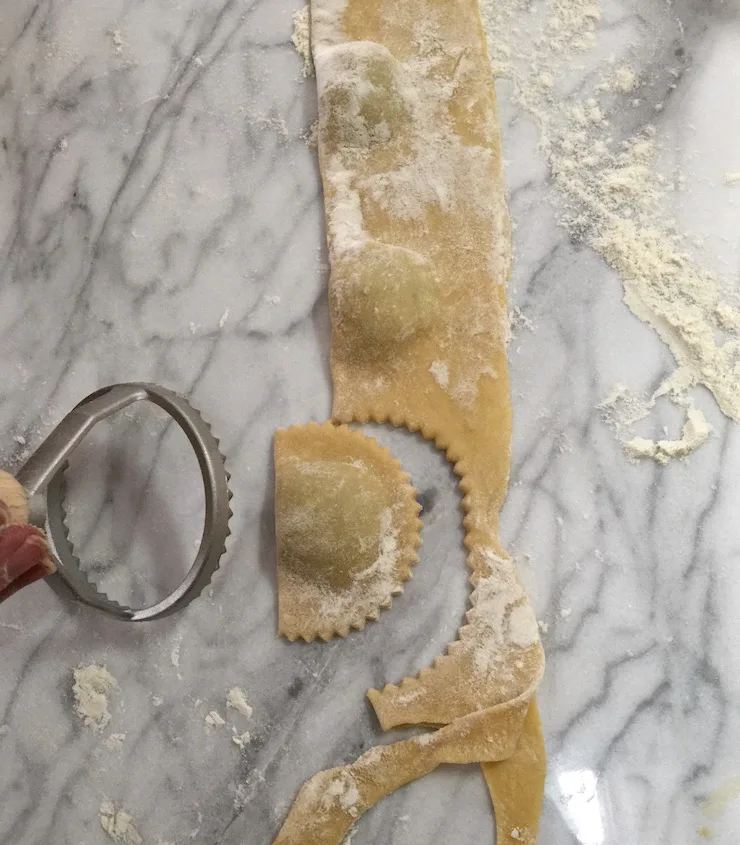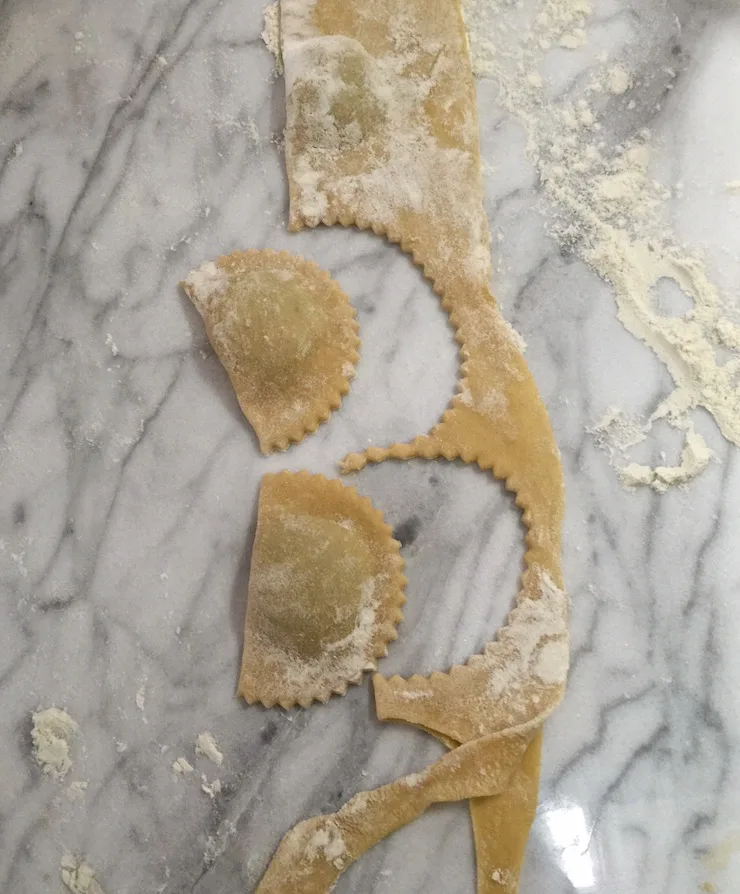 Almost Done!
Bring a large pot of salted water to a boil. Carefully add the raviolis to the pot and boil/simmer for 20 minutes. Stir occasionally and carefully so they don't stick to each other or the bottom of the pot. When finished, use a slotted spoon or hand strainer to scoop out the ravioli to the draining tray.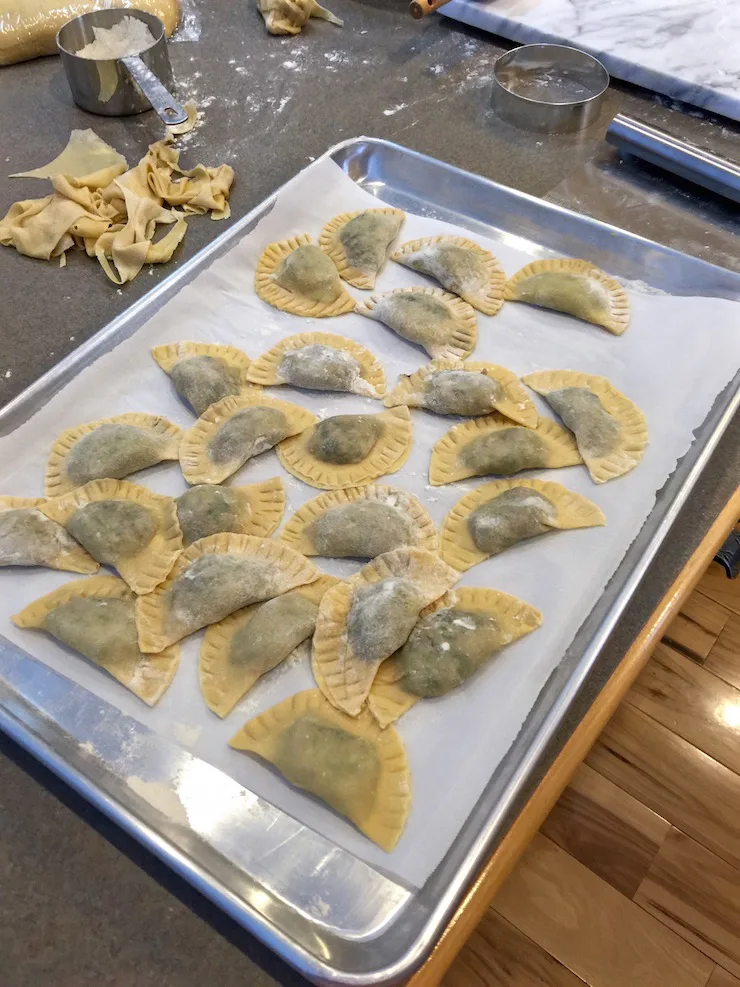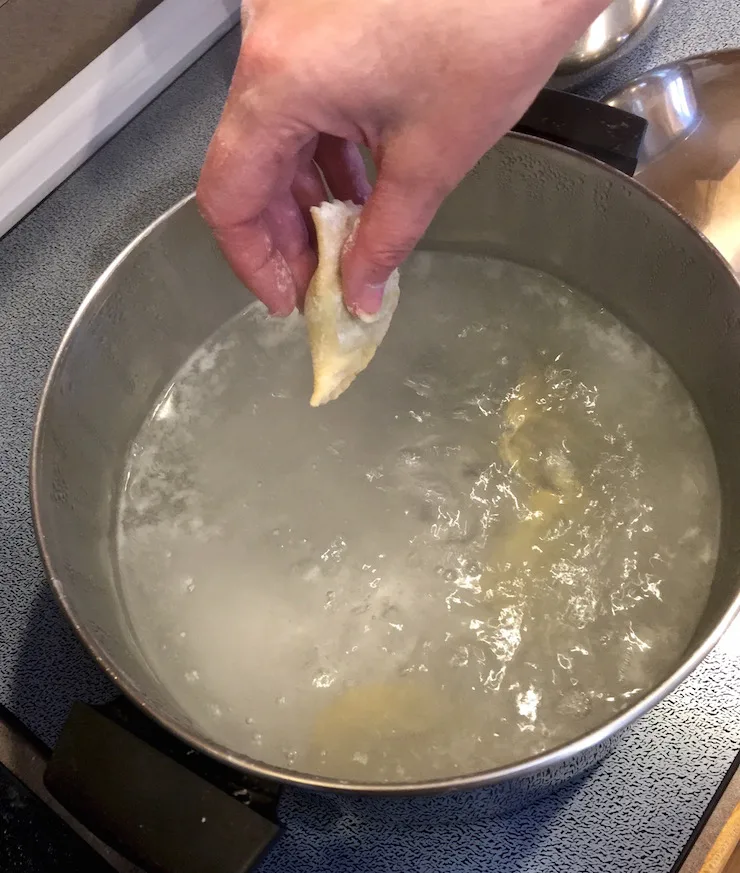 To Finish for Serving...
Heat a good chunk of salted butter in a skillet. Add as many ravioli that will fit in a single layer. Fry until browned and a little crispy, on both sides. Remove to a pan or platter and keep in a warm oven. Continue frying ravioli and adding more butter to the pan. Serve with sauce and freshly grated Parmesan.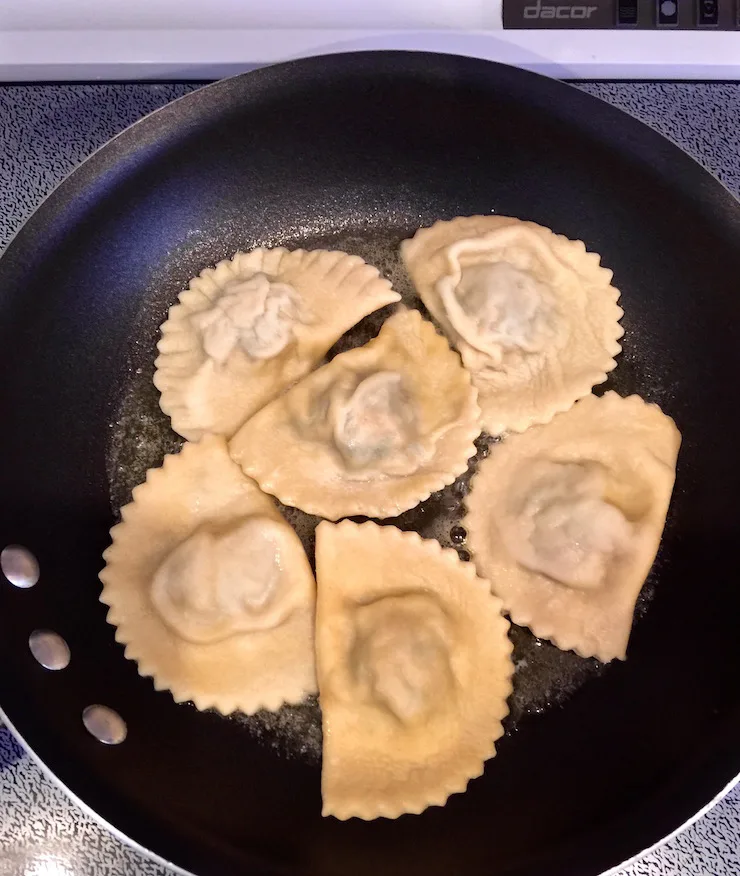 So that's my Nana's Ravioli. It is delicious and has probably been in our family 100 years, at least. A couple notes, you can freeze the ravioli before you boil them. You can also freeze after you boil them, before frying. The sauce freezes well and you'll most likely have filling leftover, freeze that too. My aunt sometimes uses the mixture for hamburgers. Or you have enough I'm sure for another big batch of my great-grandparents ravioli. Enjoy.