My great granddad's Chicago-style Italian baked spaghetti, homemade sauce with beef stew meat and mushrooms, layered with cheddar cheese and spaghetti and baked in a casserole dish.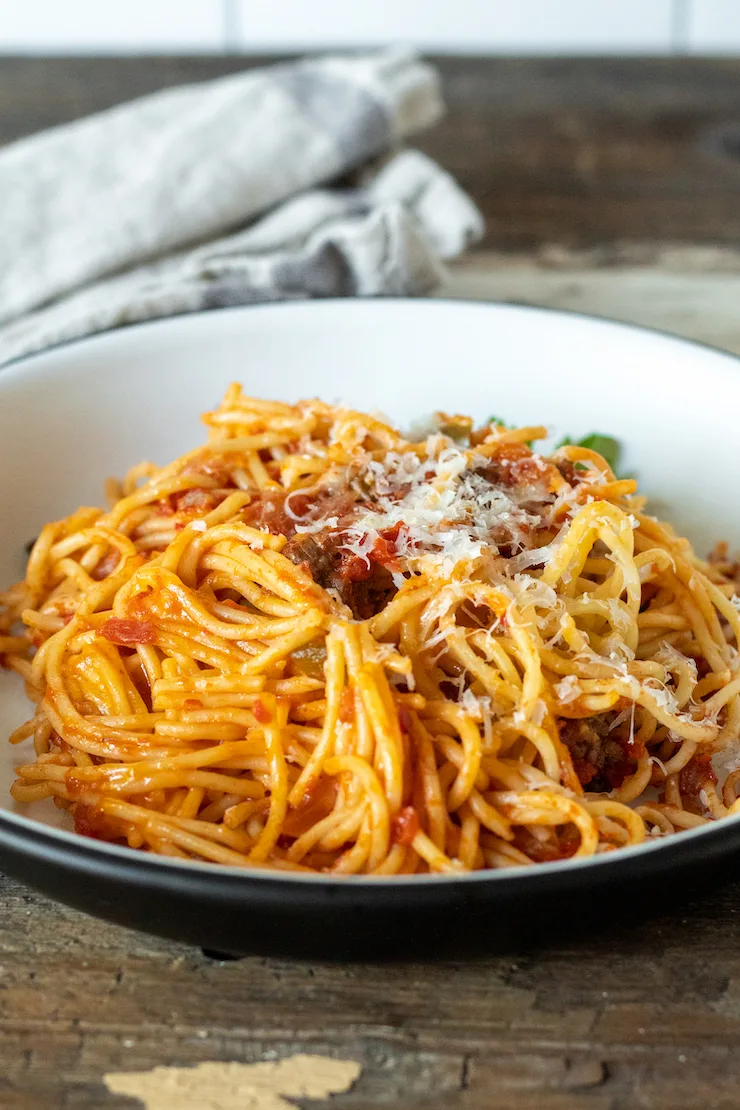 Granddad's Spaghetti, my favorite comfort food of all time. This is a baked spaghetti dish that my great grandfather made, and my grandmother and mom and aunts continued to make it and pass down the recipe. Kind of an interesting story behind the origins of this Italian baked spaghetti recipe.
My great grandparents lived on the northwest side of Chicago. That side of the family is German, not a drop of Italian blood. Granddad frequented an Italian restaurant somewhere in Chicago, and he wanted to know how to make their spaghetti and ravioli. The owner wouldn't give the recipes to Granddad, so he took him out for a drink with the sole purpose of getting him drunk. He succeeded and the restaurant owner spilled the beans and gave Granddad the recipes.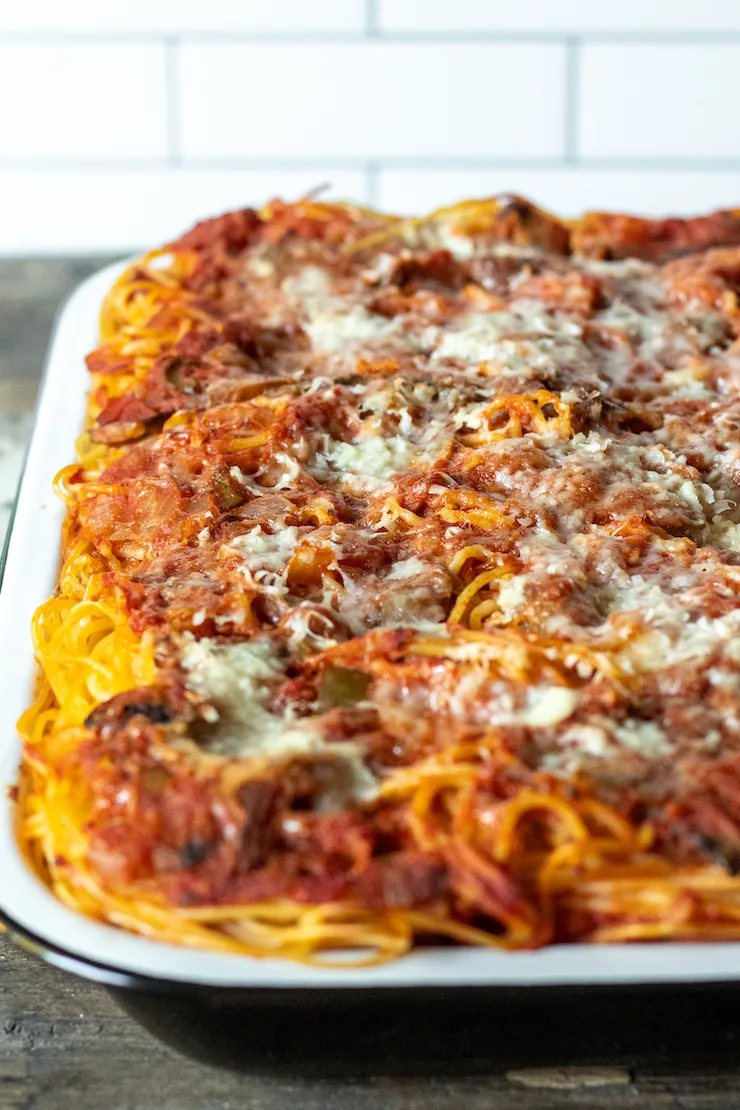 Everybody on my mom's side of the family has made Granddad's spaghetti. I make it Christmas day. Granddad got the recipe but Nana made it. My mom says Granddad was a good cook and he'd come barreling in the kitchen and kick everyone out, he was making pancakes. Mom remembers eating his pancakes with her best friend in the dining room, with tons of butter and syrup. And Granddad's spaghetti for Sunday dinner.
HERE'S WHAT YOU NEED
For the sauce:
I make the sauce a day in advance, and then layer it the next day.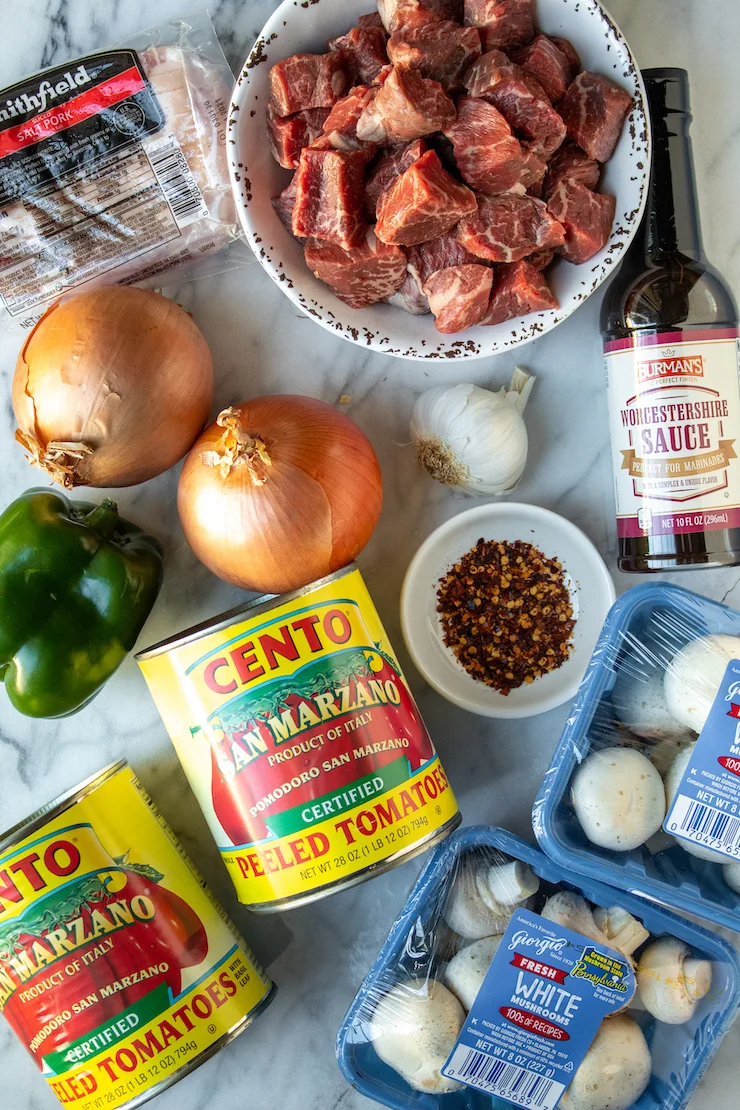 Beef stew meat I prefer beef chuck roast or boneless beef short rib for tenderness and flavor after cooking, but lean beef stew meat is totally fine and what my mom uses.
Salt pork you can find in most grocery stores, comes in a package and I trim it to include most of the meat over dices of pure fat. Salt pork really adds to the flavor of this spaghetti. If you can't find, try pancetta, not quite the same but good.
White button mushrooms just wipe them clean, slice and toss them in to simmer in the sauce. My aunt leaves out because she doesn't like them. Sorry, it's not Granddad's spaghetti without mushrooms.
Onion, garlic and green pepper
Worcestershire sauce, crushed red pepper
Canned tomatoes preferably San Marzanos, crushed by hand
For layering/assembly: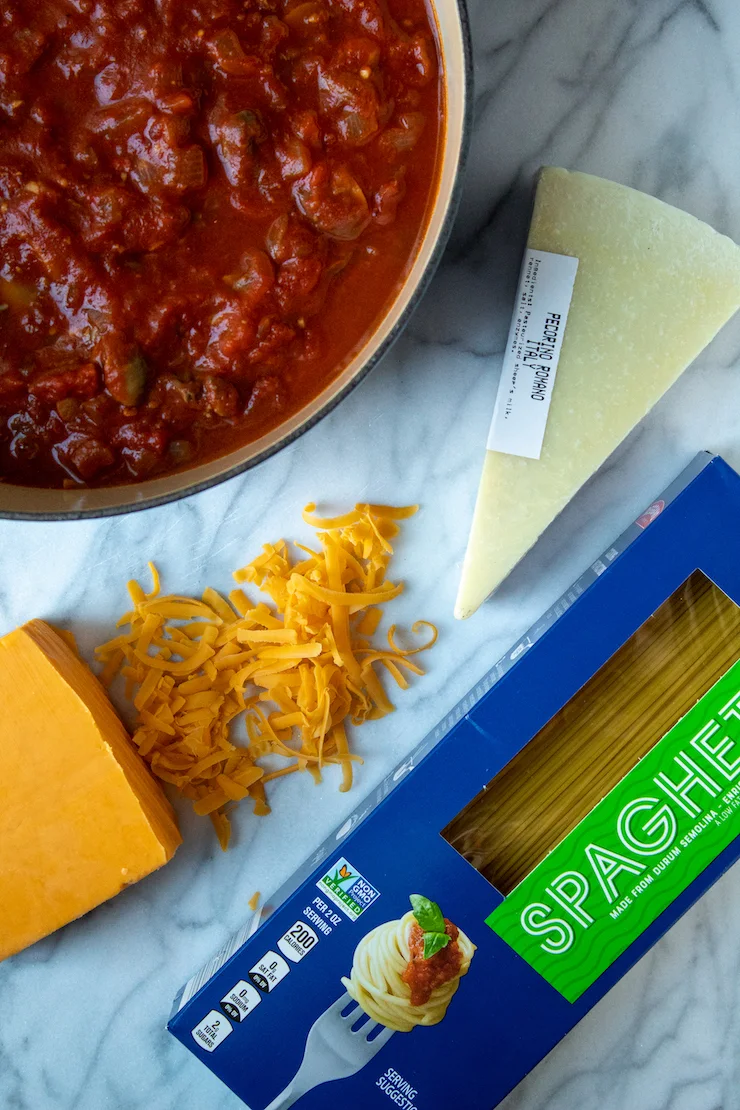 Spaghetti two pounds, makes a big pan!
Sharp cheddar cheese I questioned the authenticity of that, my aunt and mom said yes, sharp cheddar. Really? From an Italian restaurant? Maybe, in the early 1900's, who am I to question. As my Nana used to say, it must be sharp cheddar cheese.
Grated Romano cheese
The beef and mushroom sauce
HOW TO MAKE ITALIAN BAKED SPAGHETTI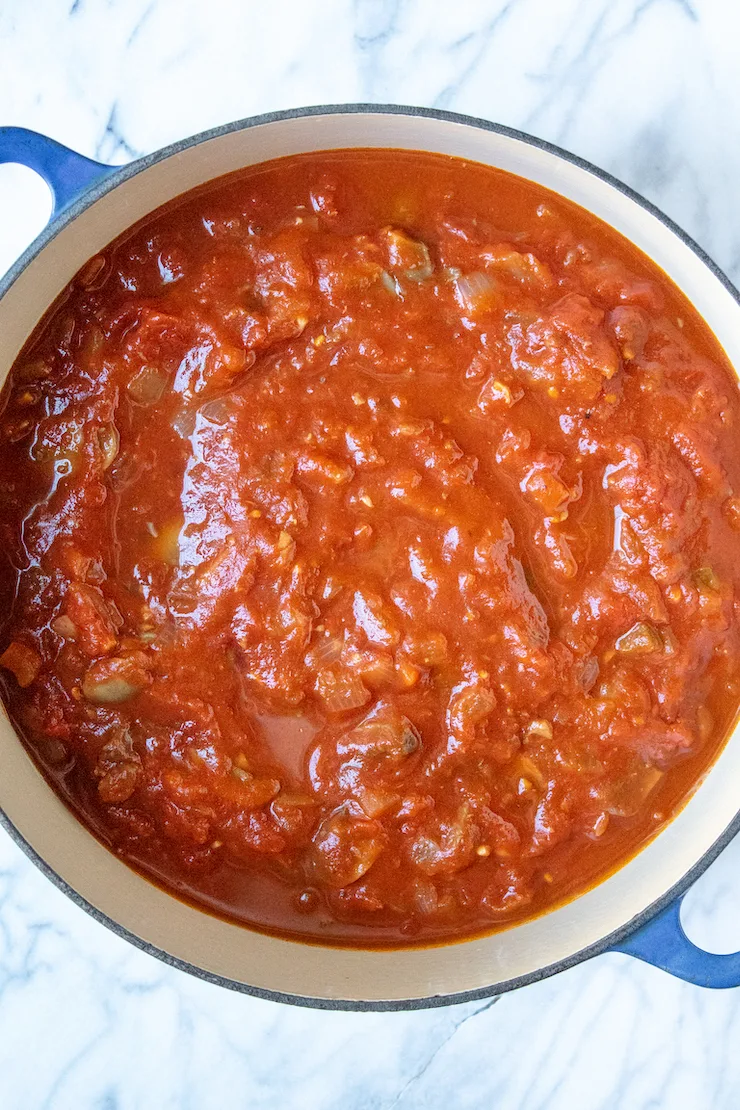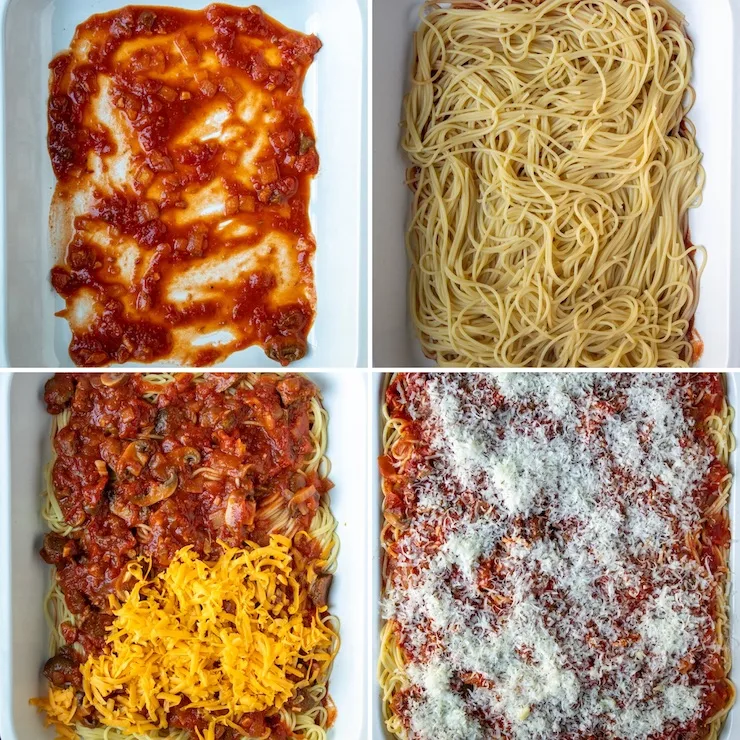 Make the sauce.
Cook spaghetti, drain.
Spread some sauce over bottom of large baking pan.
Layer in this order: spaghetti, sauce, cheddar cheese. Repeat.
Last layer, top with spaghetti, more sauce and sprinkle generously with grated Romano. Bake!
RECIPE NOTES AND TIPS
This makes a big pan! You can definitely divide it between two smaller pans.
Grate your own cheese it tastes and melts better, but I have used pre-shredded cheddar cheese when the hubby isn't here to do all the grating which is one thing I don't enjoy doing.
I freeze leftovers which I always have, freezes just fine after baking, not before. Same with any extra sauce.
Making the sauce the day before makes life a little easier and streamlines things. I also think the sauce tastes better the next day.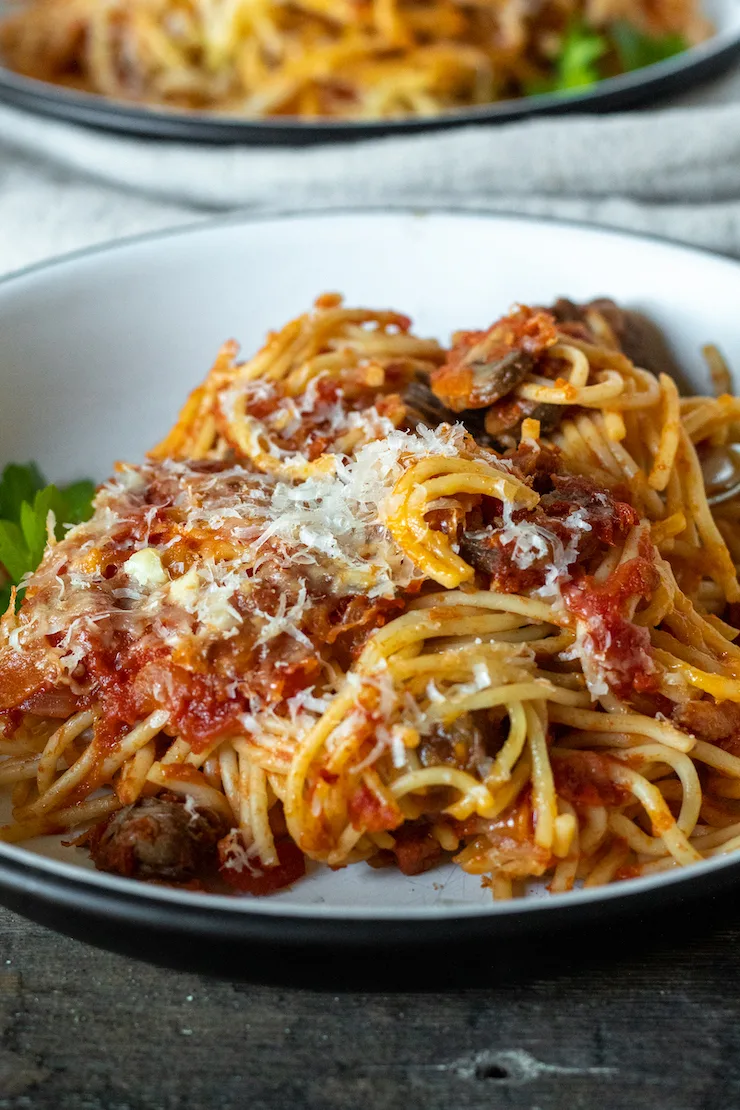 The recipe my mom gave me is a little sketchy on the amounts, but it has been adapted so many times in my family that everyone just knows what to do. It's nice to have it written down now for accuracy and posterity.
So there you have it, Italian baked spaghetti, granddad's way via a drunk Italian restaurant owner. It's delicious, a little different and one of our favorites. Hopefully my girls will learn how to make their great great grandfather's spaghetti and keep passing it on. xo- Kelly🍴🐦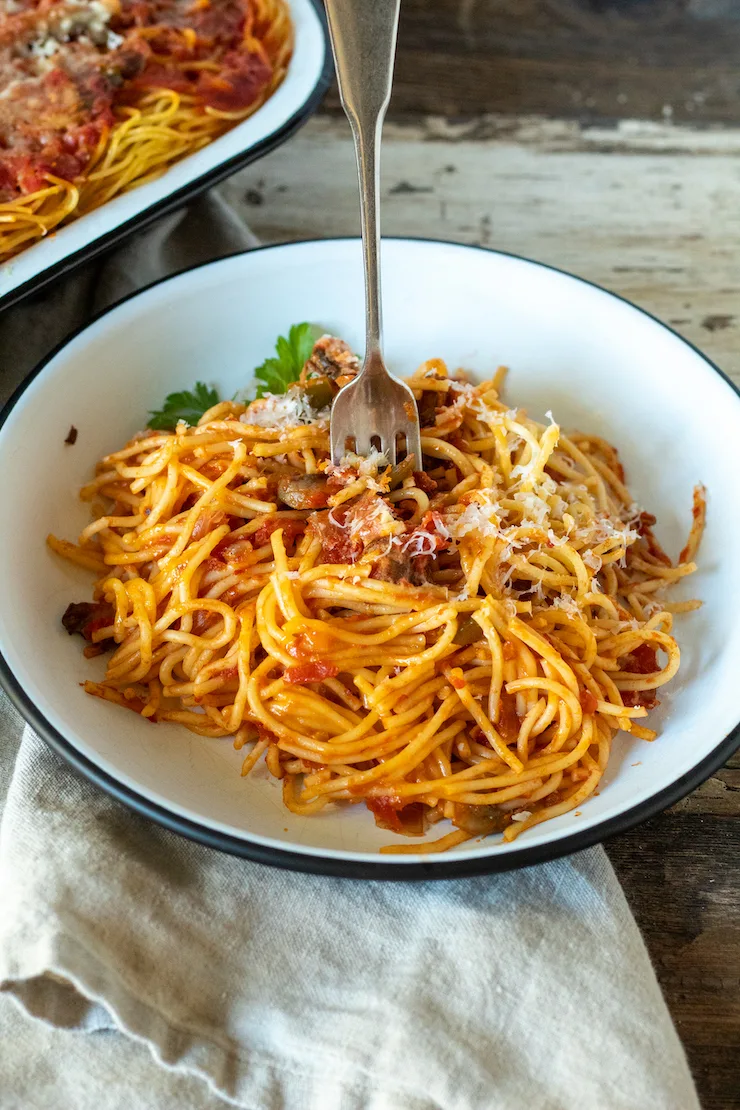 HUNGRY FOR MORE? Subscribe to my Newsletter and come hang out with me on INSTAGRAM, or give me a follow on FACEBOOK or see what I'm pinning on PINTEREST.
UPDATED: Originally published in 2016 and updated with new photos and copy revisions to spruce things up a bit, no changes to original recipe, I wouldn't dare!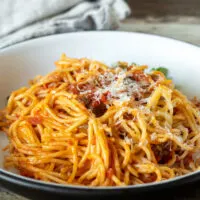 Italian Baked Spaghetti
My great granddad's Chicago-style Italian baked spaghetti, beef-mushroom sauce layered with cheddar cheese and spaghetti and baked in a casserole dish.
Print
Pin
Rate
Ingredients
¼

pound

salt pork

chopped

1

pound

beef stew meat, preferably well-marbled like beef chuck or beef short rib, cut in 1½-inch pieces (I actually used both because I had both leftover in the freezer)

3

large onions, chopped

1-2

cloves

garlic, finely chopped

70

oz

2 (28-oz) cans and 1 (14-oz) can whole tomatoes, preferably San Marzano, crushed by hand

~ Strange amount, I know. They were drunk, remember?

1

green bell pepper, chopped

~ I used about a quarter of a green pepper as we're not fans

1

pound

white button mushrooms, cleaned and sliced

1

tablespoon

Worcestershire sauce

½-1

teaspoon

crushed red pepper (to taste)

2

cups

water

1

pound

sharp cheddar cheese, shredded

2

pounds

spaghetti

Grated Romano cheese
Instructions
Make the sauce: one day ahead, if possible.
Drizzle some olive oil in a large pot and heat over medium. Salt the beef and add to pot along with the chopped salt pork, and brown, about 10 minutes.

Add onions, garlic and a generous pinch of salt, continue cooking until onions are softened, about another 10 minutes. Add the crushed tomatoes and juices, chopped green pepper, sliced mushrooms, Worcestershire, crushed red pepper, to taste, and 2 cups water. Stir well and bring to a boil.

Reduce heat to low, cover partially, and simmer 2 to 2½ hours or until meat is very tender. Cool and refrigerate overnight.
Assemble the spaghetti:
Bring sauce to room temp or reheat gently on stove. Cook 2 pounds spaghetti in boiling, salted water until al dente, 8 or 9 minutes. Drain.

In a large baking pan, put a little sauce to coat the bottom entirely. Add a layer of pasta, ladle some sauce all over the top, sprinkle on half the shredded cheddar. Repeat with another layer of spaghetti, more sauce, the rest of the cheddar.

Cover cheddar with remaining spaghetti. Ladle some more sauce over the top and then sprinkle with grated Romano cheese. So here's what you have, sauce, spaghetti, sauce, cheese, spaghetti, sauce, cheese, spaghetti, sauce, Romano.

Cover with foil and bake in 350º oven for 45 minutes. Remove foil and bake another 15 minutes, until heated thoroughly and cheese is melted.

Serve, passing more Romano and extra sauce if desired.
Recipe Notes
I break up the cooked pieces of meat if I think they're too big, either before I refrigerate it or the next day before I layer the spaghetti.
This makes a very large pan. I often make two pans, about 9" by 13" or so casseroles, and put one in the freezer for another time. Just thaw and then bake per instructions.
Nutrition
Calories:
609
kcal
Carbohydrates:
69
g
Protein:
30
g
Fat:
24
g
Saturated Fat:
11
g
Polyunsaturated Fat:
2
g
Monounsaturated Fat:
7
g
Cholesterol:
69
mg
Sodium:
788
mg
Potassium:
835
mg
Fiber:
5
g
Sugar:
8
g
Vitamin A:
635
IU
Vitamin C:
26
mg
Calcium:
354
mg
Iron:
4
mg