Hands down, this is one the best new dishes I've made in a long time, spaghetti with mussels and chorizo. I got the idea from the new recipe app called Yumavore, from the user Light yet Right. She posted a recipe for mussels and chorizo that caught my eye. If you haven't already, you need to check out Yumavore, from Tyler Florence. It's a terrific new app for recipes and cooking.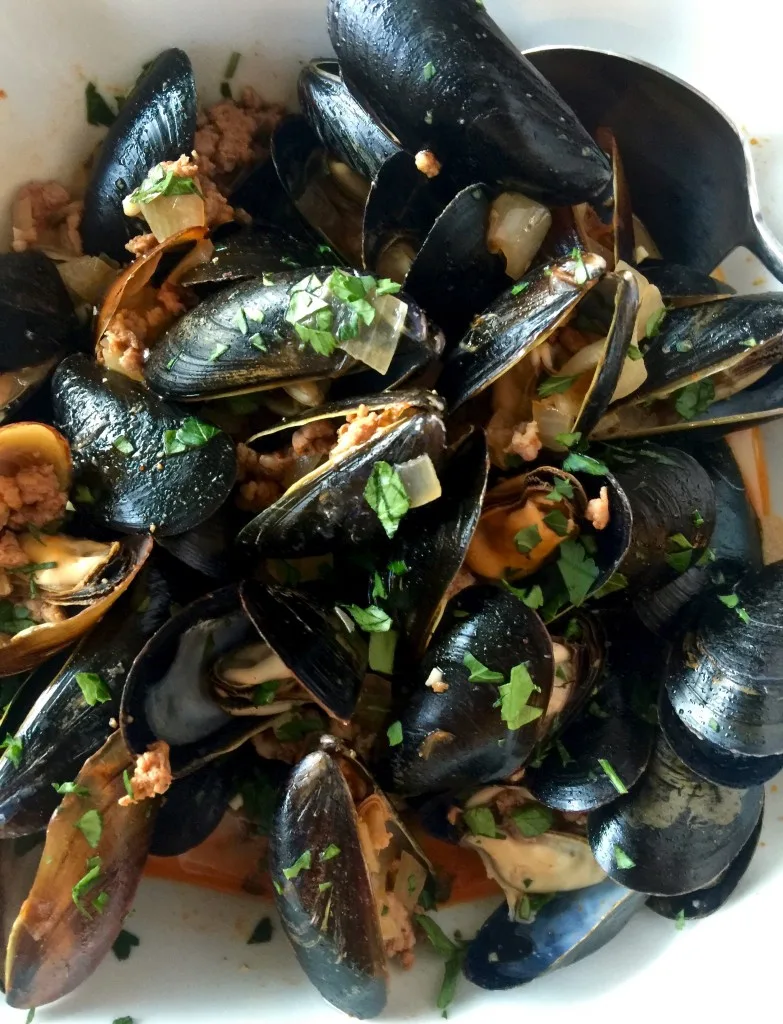 I love mussels but rarely make them at home. The hardest part of this recipe is scrubbing the mussels and removing the beard, although not terribly hard, just a little time consuming. Once that's done, it comes together quickly.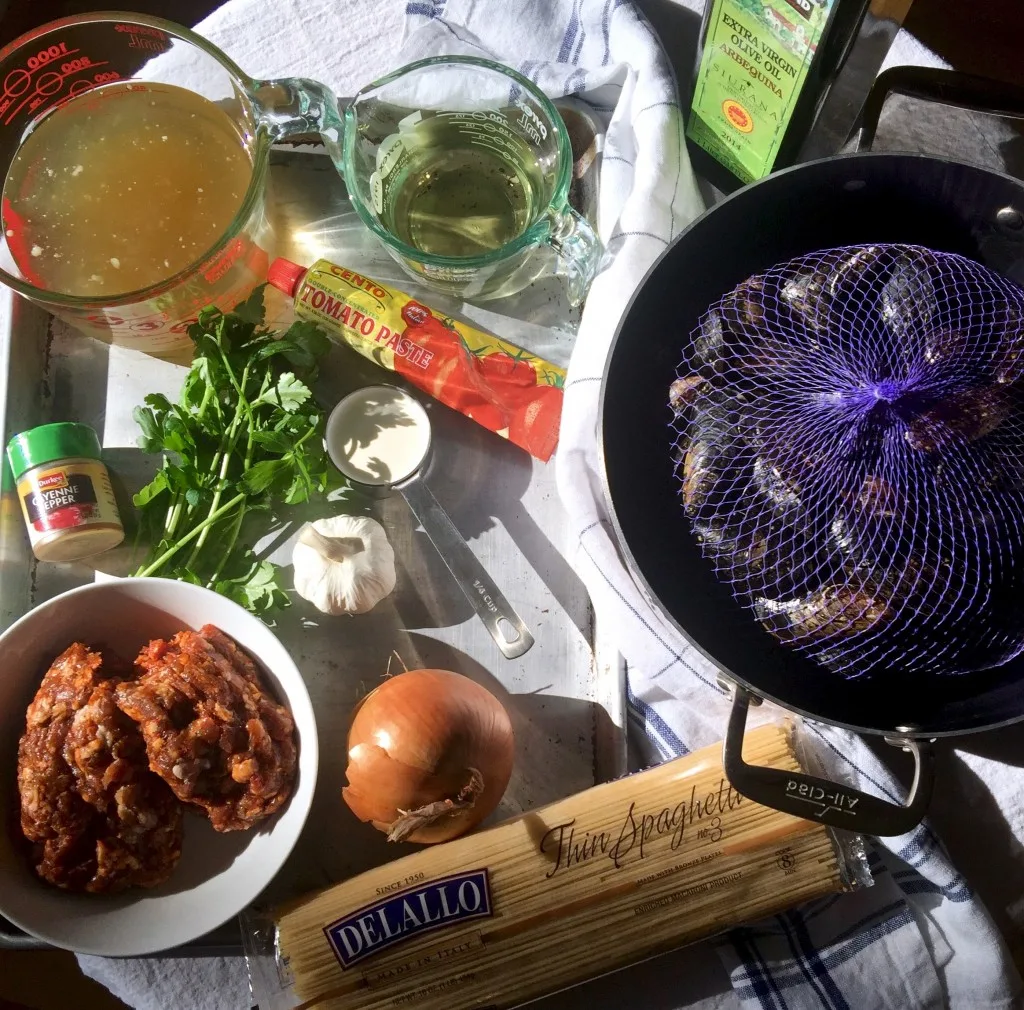 This dish definitely has a Spanish flare to it, heck, for all I know, it is a Spanish dish. The chorizo is the star. Use a good quality chorizo sausage, preferably fresh, from a butcher that makes it. That's what I used and it packed some heat and incredible flavor. The mussels then cook in some wine, chicken stock, garlic and a little smoked paprika. The resulting broth is outrageously good, I swear I could drink it.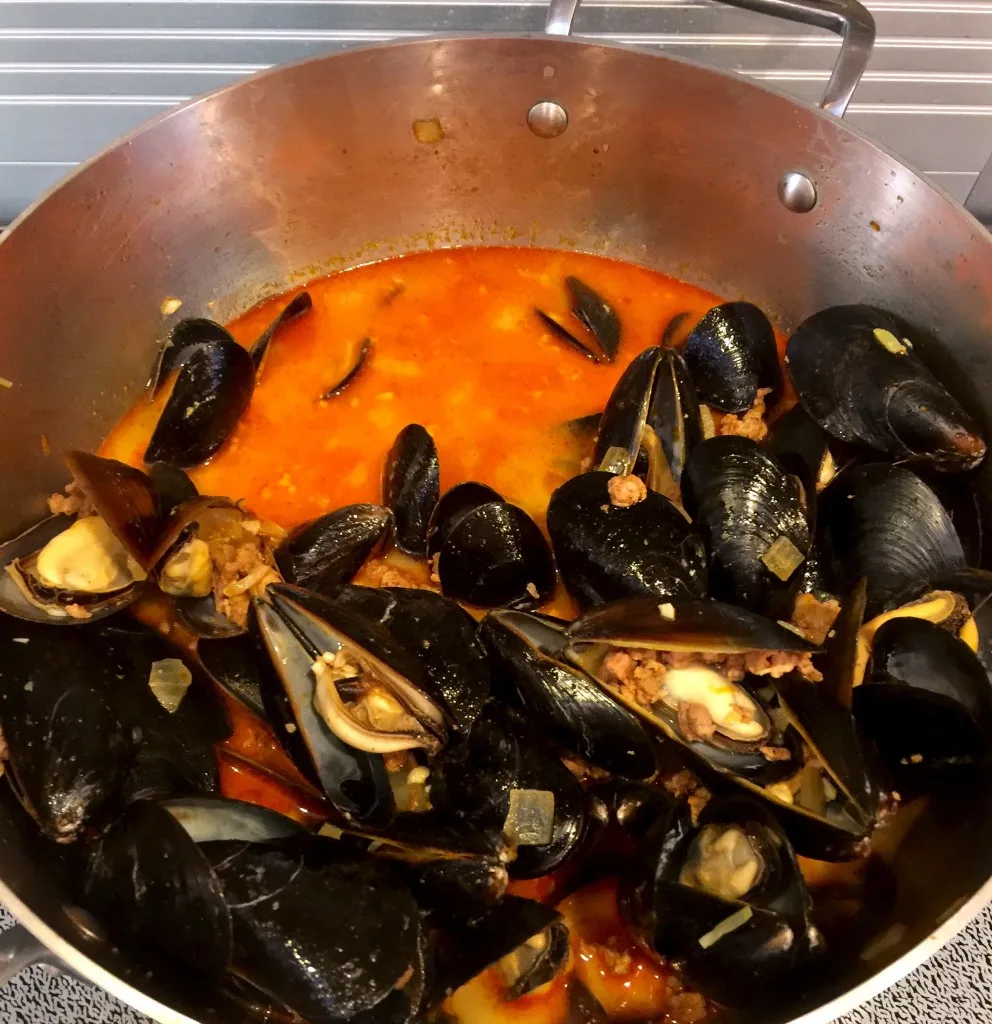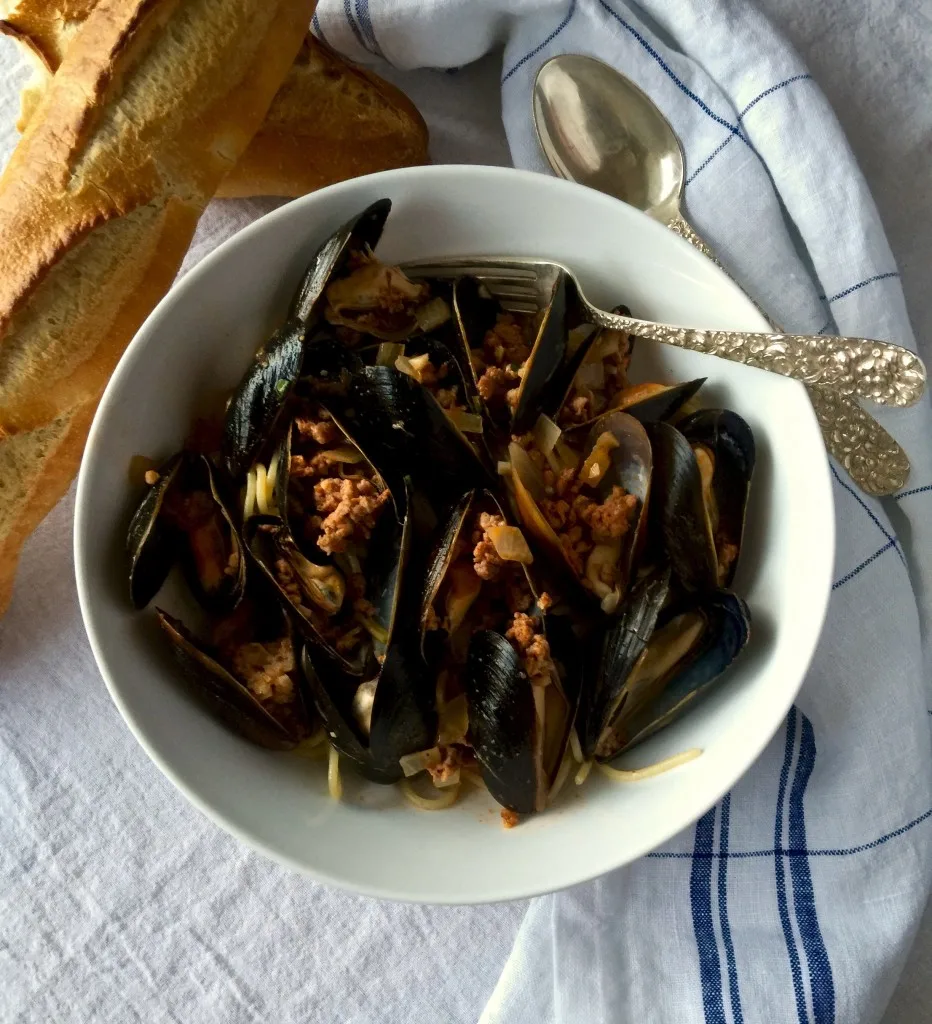 Mussels with chorizo is perfect over some pasta, and I chose spaghetti. Linguine would be another good choice. The broth, with the liquor from the mussels, perfectly coats the pasta and it's why you need crusty bread, to sop up every last drop.
Enjoy, Kelly
Spaghetti with Mussels and Chorizo
Serves 4 - 6
Ingredients
3 pounds mussels, rinsed, scrubbed and debearded (the beard, if there is one, is a stringy thing attached to the seam of the mussel)
2 tablespoons olive oil
1 pound fresh, uncooked chorizo, bulk or removed from casings
1 onion, diced
2 tablespoons tomato paste
½ teaspoon cayenne pepper
½ teaspoon smoked paprika
4 garlic cloves, finely chopped
1 cup dry white wine
2 ½ cups chicken stock, preferably homemade
¼ cup heavy cream (this is optional but I highly recommend, or milk)
Some chopped fresh parsley, for garnishing
1 pound spaghetti or linguine
1 French baquette
Instructions
Clean and debeard the mussels, keep chilled while prepping rest of ingredients. Discard any open mussels if they don't close when tapped.
Bring a large pot of salted water to a boil for the pasta.
Heat oil in a large dutch oven over medium heat until shimmering. Add chorizo and cook and break up with wooden spoon until no longer pink.
Add the diced onion, tomato paste, cayenne pepper and smoked paprika. Cook and stir until onions have softened, about 3 minutes. Add garlic and cook until fragrant, about 30 seconds. Add the wine and chicken stock and bring to a boil. Reduce heat to a simmer, add mussels and cover. Simmer until all the mussels have opened, about 4 or 5 minutes. Finish with heavy cream, stirring in and mixing well. Discard any mussels that didn't open.
Meanwhile, cook spaghetti until al dente. Drain and return to cooking pot. Ladle some of the broth and chorizo from the mussels pot over the pasta. Toss well and divide into large serving bowls. Top with mussels and chorizo, more broth, and sprinkle with chopped parsley. Serve with crusty bread.
*Adapted from Yumavore