I got a pressure cooker for Mother's Day this year, an Instant Pot.  I had been seeing and hearing so many good things about it and I was intrigued enough to jump into the world of pressure cooker cooking.  I love it!  I've made a few things so far, and these Instant Pot Barbecue Ribs are a favorite already, and so super easy!
Before you go all "that's not how to make BBQ ribs" on me, hear me out.  My husband does ribs on the grill, low and slow, ON THE WEEKENDS like this ~ when he has the time and desire to hang out by the grill.  But with the Instant Pot, I can fully cook the ribs to fall-off-the-bone tender in 20 minutes and then he can finish them off on the grill in 10 minutes.  That means ribs for dinner in less than an hour.  Can't beat that.
They may be quick in the pressure cooker but they do not at all lack in flavor.  I've made these Instant Pot Barbecue Ribs with both St. Louis-style spareribs and pork loin back ribs (baby backs).  They were lip-smacking delicious and the recipe works equally well for both cuts of pork ribs.  It's really your preference.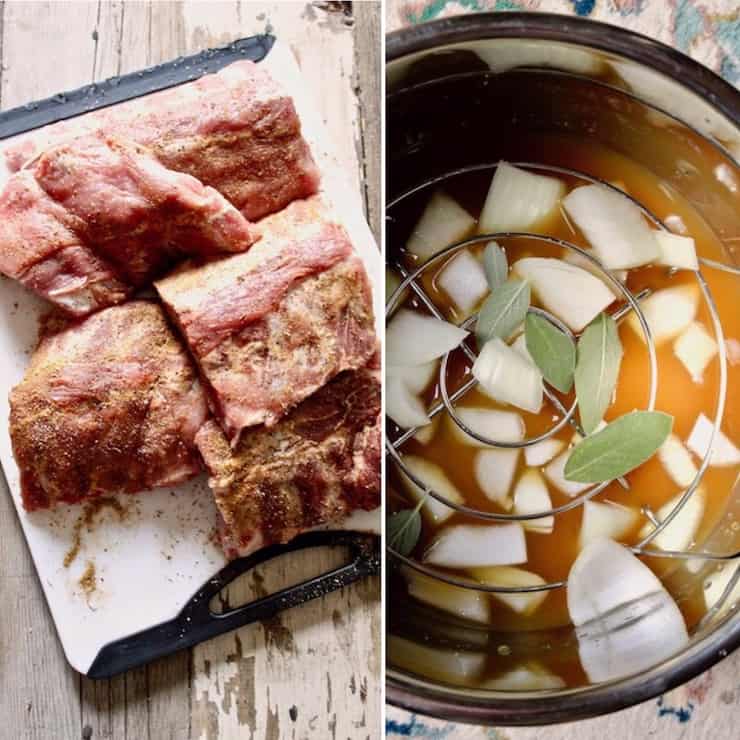 I seasoned the ribs with our favorite dry rub, and cut the rack into three smaller sections.  The pressure cooker needs about a cup of liquid, and while water works just fine, I used apple juice.  I also tossed in some fresh sage leaves from my garden and some chopped onion.  And just a hint of smokiness from a very small amount of liquid smoke.  We finished them off on the grill with BBQ sauce.  You could certainly finish them off in the oven, but I prefer the grill ~ we have a gas grill, so super easy!
Have I said it enough times that these ribs are super easy?  Yes?  Then I need to tell you just how good they are ~ when you take that first bite, you will think they were on the grill for hours, low and slow.  These Instant Pot Barbecue Ribs are so good you won't be able to tell the difference.  Trust me on this one ~ they're really, really good.
Best, Kelly
Easy Instant Pot Barbecue Ribs
Fall-off-the-bone tender pork ribs in under an hour. Cooked in the pressure cooker with just a few ingredients and finished off on the grill with BBQ sauce. So easy and so good, you'll never know they didn't cook low and slow for hours!
Ingredients
1 - 2

racks of pork ribs, St. Louis-style spareribs or baby back ribs

1

cup

apple juice

½

tsp

liquid smoke

4 - 6

fresh sage leaves

½

large onion, roughly chopped

Your favorite dry rub

Kosher salt and fresh cracked black pepper

Your favorite BBQ sauce
Instructions
Prepare ribs for the pressure cooker; remove the skin on the back side by slipping tip of knife between thin membrane and the bone and pulling off with a paper towel. Cut slab of ribs into sections of 3 to 4 ribs, yielding 5 sections from a slab and a half of ribs. Lightly sprinkle each side with dry rub, salt and pepper and rub seasonings into meat.

Pace rack in bottom of Instant Pot. Pour in apple juice and add liquid smoke. Scatter sage leaves and onion over the the bottom (it's okay that they fall through the rack). Place rib sections on top of rack either by layering them or placing them on their sides, it doesn't matter as long as they stay under the maximum fill line.

Seal pressure cooker and cook for 20 minutes under high pressure. When finished, let pressure release naturally for 10 - 15 minutes. While pressure is naturally releasing, preheat the grill.

If needed after 15 minutes, manually release any pressure and carefully open pot and remove ribs. Sauce ribs on both sides with BBQ sauce and finish on the grill for about 5 minutes a side. Remove to cutting board, cut into individual ribs and serve. Enjoy!
Recipe Notes
I used 1½ racks of ribs cut into 5 sections.  Use less or more, as long as they fit in the pot under the maximum fill line.  You can even put the full slab in if you don't want to cut it in sections, folded or wrapped around the inside edge of the pot.
You can skip the apple juice, liquid smoke, sage and onion and just use a cup of water for the liquid along with the seasoned ribs.  Still very good but I like it better the apple juice way.
Go easy on the dry rub, salt and pepper and avoid over seasoning; pressure cooking intensifies the flavors.