Have you noticed how cauliflower is kind of hot right now? I have, and I admit I almost never make it. I tend to conjure up the image of a bad veggie tray with bad ranch dressing when I think of cauliflower. But then, I remembered making this pasta dish a few times, and it's delicious and has cauliflower in it. It's from Lidia Bastianich's cookbook that my family gave me for Christmas one year. It's rustic, humble and just a beautiful pasta dish. Orecchiette with Pancetta, Cauliflower and Bread Crumbs. I love it.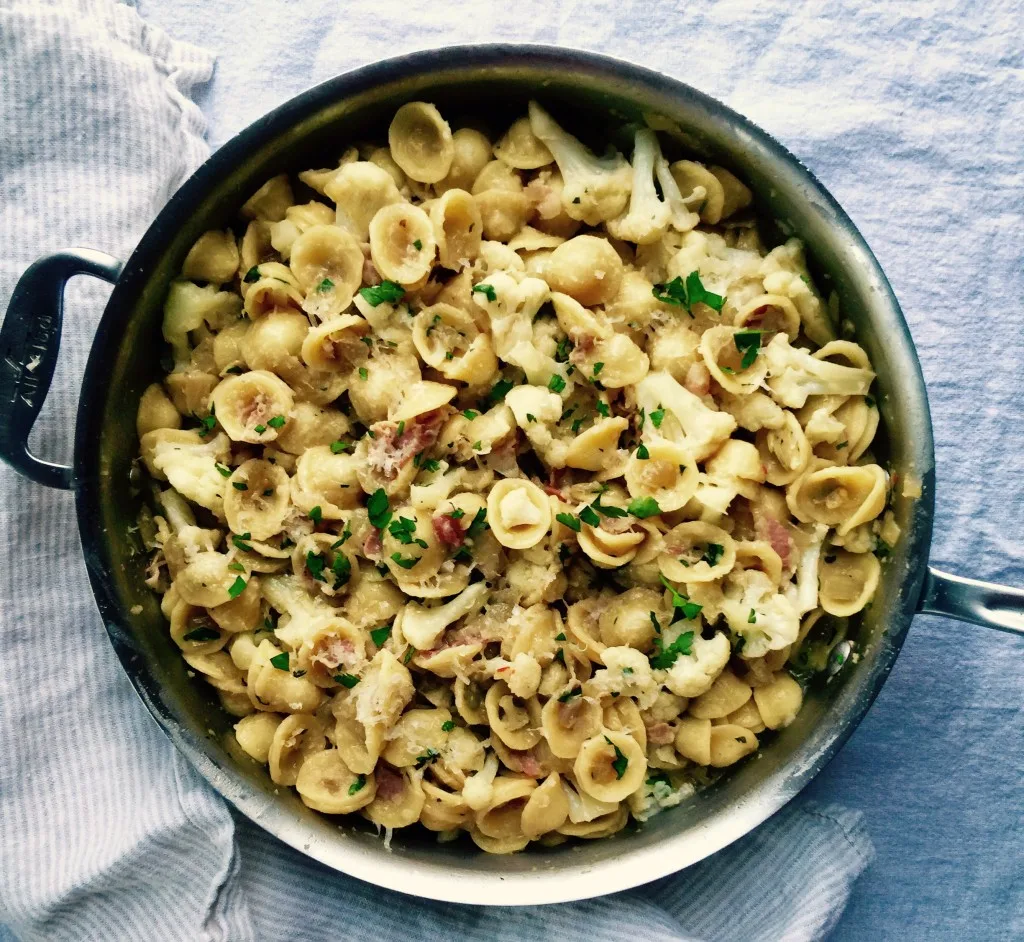 If my memory serves me right, I think I saw her make this on a PBS cooking show. She referred to it as a peasant dish, I believe. Instead of using grated cheese, it calls for fine bread crumbs to thicken the sauce, which would have been a frugal choice over expensive cheese. I used panko and then sprinkled some grated Parmesan on top of the finished dish.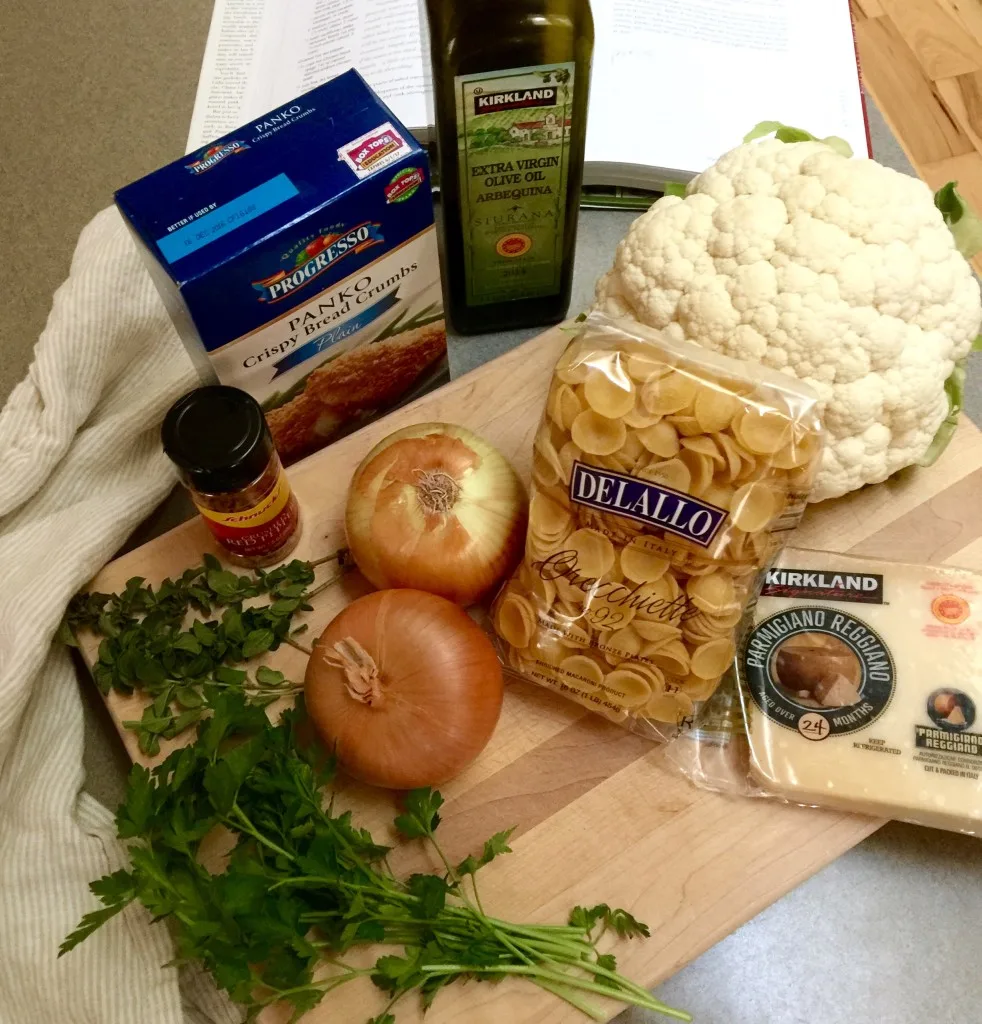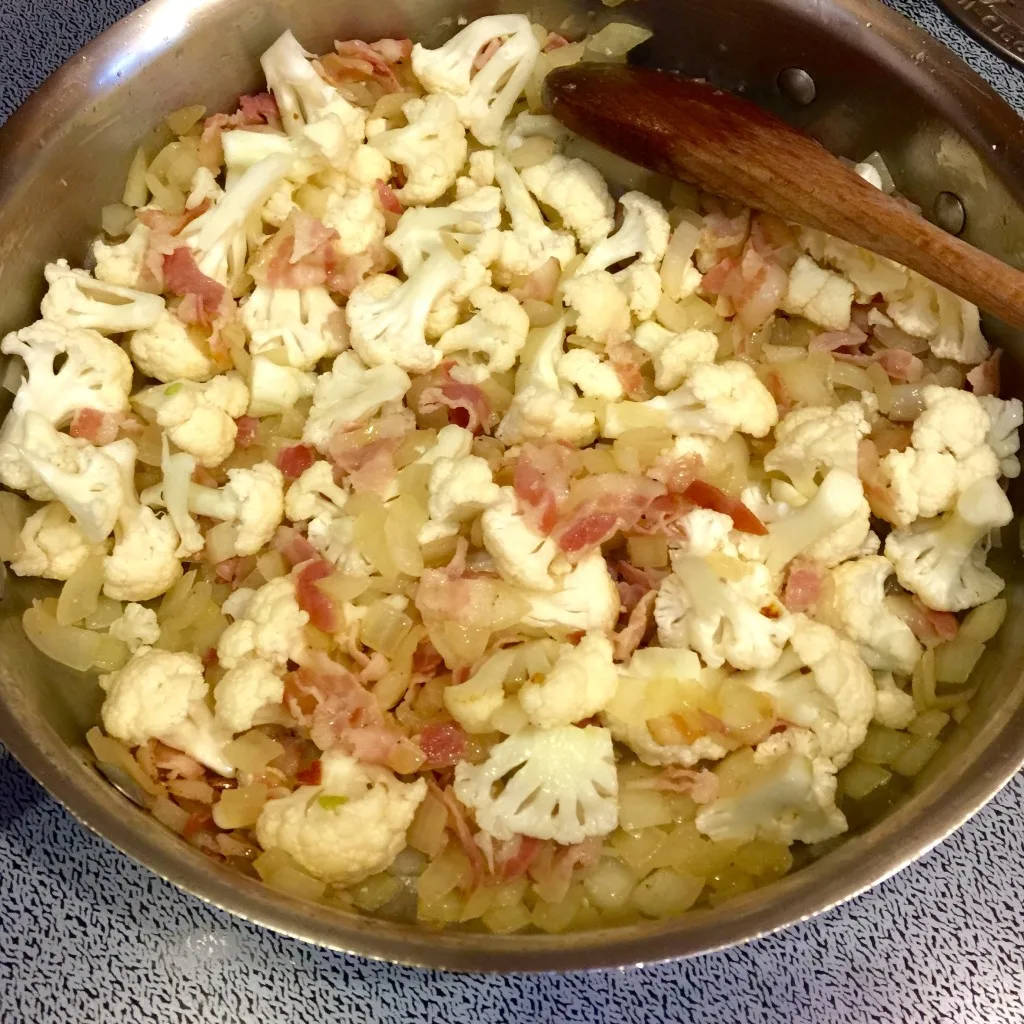 This pasta dish has few ingredients so quality really matters. Use a good olive oil, homemade chicken stock, a good dried pasta, uncured Italian pancetta and, of coarse, a fresh cauliflower that's free of blemishes. I started with the amounts called for in the recipe and then adjusted as needed, mine needing more chicken stock. I also had some fresh oregano, so I added that. It's fine without it, so no worries if you don't have fresh oregano.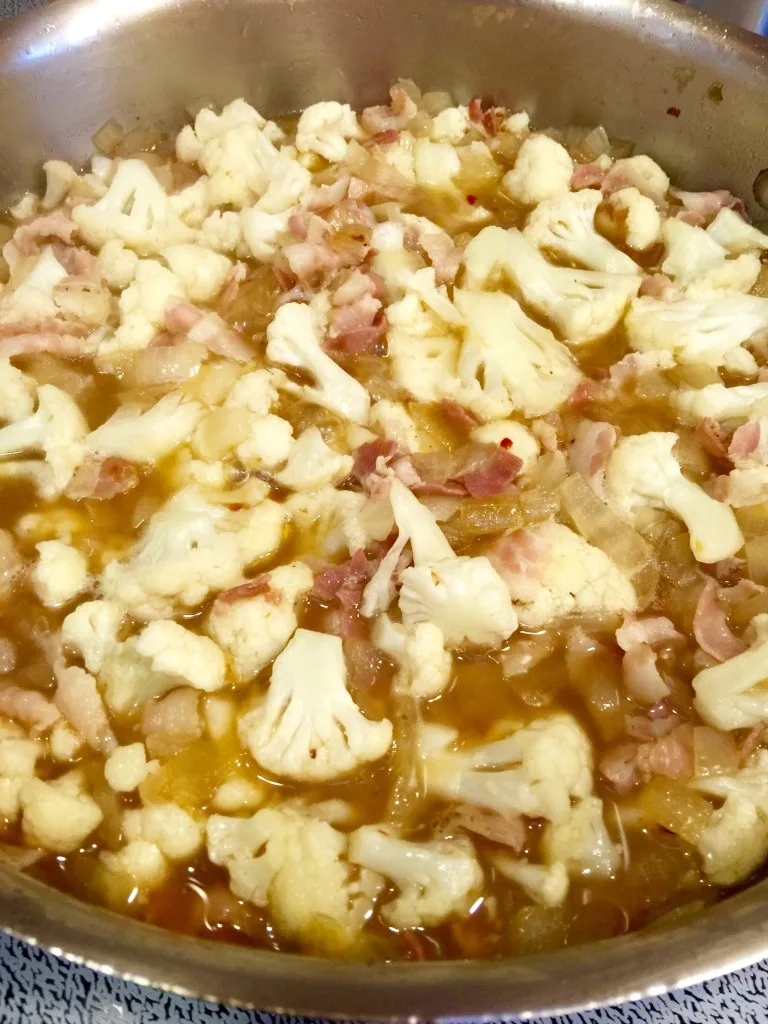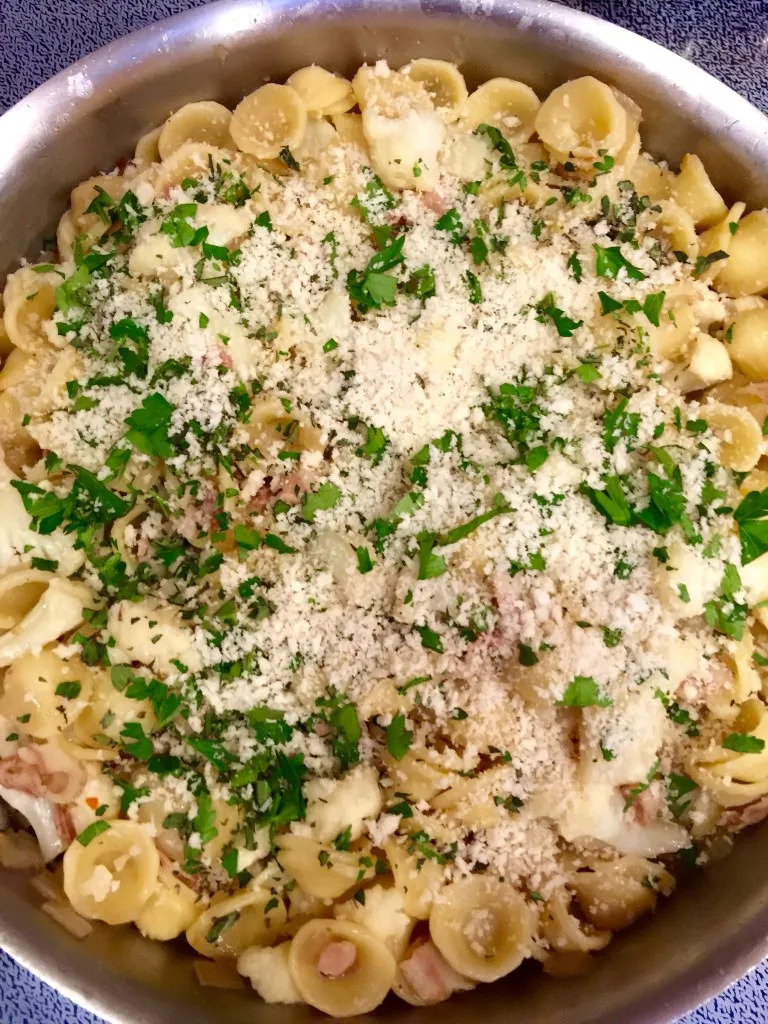 I had half a head of cauliflower left over. Last night, we sliced it up, tossed it on a sheet pan and drizzled some olive oil all over with sea salt and fresh cracked pepper, some crushed red pepper and a hit of curry powder. We roasted it in the oven until tender, and man, crazy good stuff. I am definitely on the cauliflower bandwagon. Try this pasta, you'll love it, and you definitely won't be thinking of the lowly veggie tray.
Best ~ Kelly
Orecchiette with Pancetta, Cauliflower and Bread Crumbs
Cavatelli con Pancetta e Cavolfiore
Serves six
Ingredients
¼ cup olive oil
Three ¼-inch slices pancetta, cut into 1 X ¼ X ¼-inch strips (Or, like I did, 4-ounces thinly sliced pancetta, cut into roughly 1-inch strips. Just stack the pancetta and roughly chop.)
1 pound dried orecchiette pasta (or cavatelli or cavatappi)
2 medium onions, diced (about 2 cups)
½ head cauliflower, florets cut into ½-inch pieces (about 3 cups)
Crushed red pepper
1½ cups hot chicken stock, to start, more may be needed (I used about another ½ cup)
¼ cup fine, dry bread crumbs, or as needed (I used panko)
¼ cup chopped fresh Italian parsley
Grated Parmesan cheese for serving
Optional: 1 tablespoon finely chopped fresh oregano
Instructions
Bring a large pot of salted water to a boil.
Heat 2 tablespoons olive oil in a large skillet over medium heat. Add pancetta and cook, stirring occasionally, until lightly browned. Careful not to burn and/or overcook the pancetta.
Stir pasta into the water and cook, stirring occasionally, until al dente, about 10 to 11 minutes.
Stir onions into skillet and cook for two minutes, until barely softened. Add the cauliflower and cook, stirring occasionally, until wilted and starting to brown, about 4 minutes. Season with salt and a little crushed red pepper.
Pour in chicken stock and bring to a boil, then lower heat to keep at a steady simmer. Cook until vegetables are tender and liquid is reduced by about one-half, about 5 minutes.
Add the drained pasta to the skillet and bring sauce and pasta to a boil, stirring to coat the pasta. Check for salt and adjust seasoning if necessary. Stir in the bread crumbs, parsley and oregano, and 2 more tablespoons of olive oil. Cook, stirring, until sauce is of desired consistency, adding more stock or bread crumbs as needed. Drizzle a little olive oil and some grated Parmesan over the top and serve.
*Adapted rom Lidia's Italian-American Kitchen