Gnocchi in creamy Gorgonzola sauce with walnuts, topped with crispy pancetta.  Elegant Italian cuisine, perfect for that special  occasion dinner.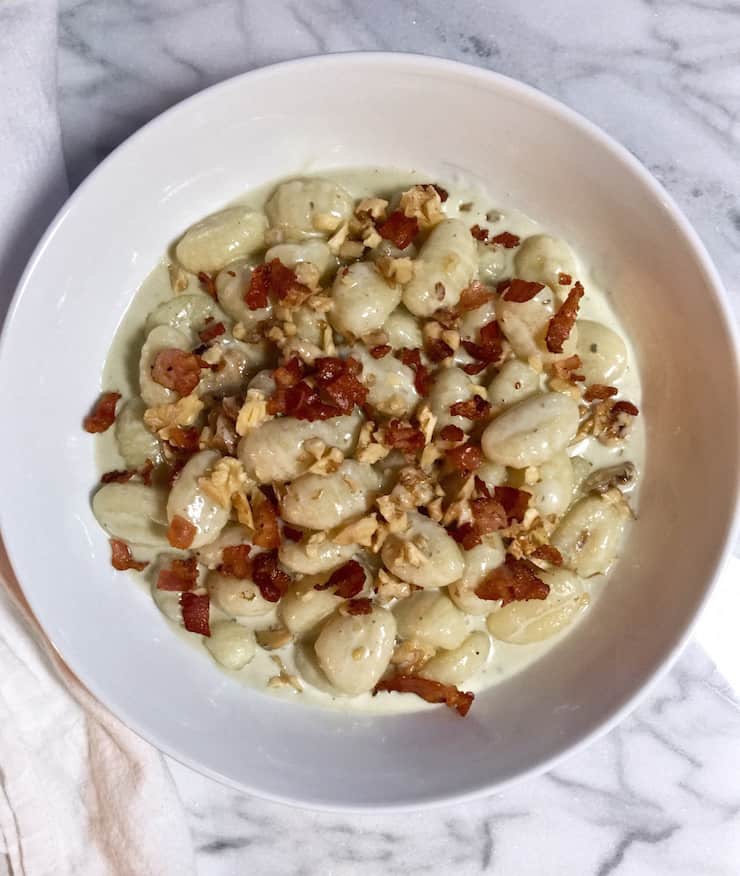 This was our special Valentine's Day dinner, gnocchi with Gorgonzola and walnut sauce, topped with crispy pancetta.  It was outrageous.  Meathead declared it the best thing I've ever made.  Here's why this is so good.  It's classic and simple Italian food using just a few really high quality ingredients, adapted from Marcella Hazan.  I really believe that you get out what you put in.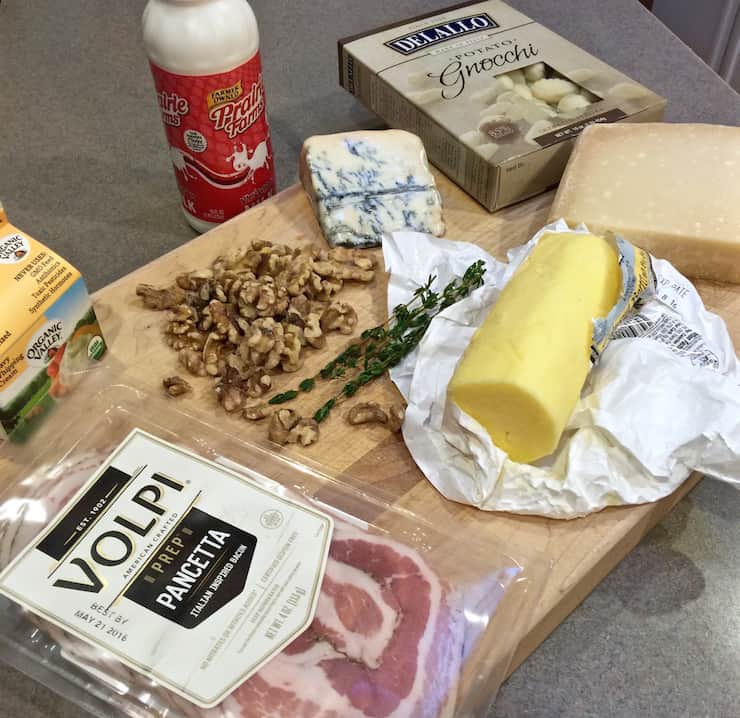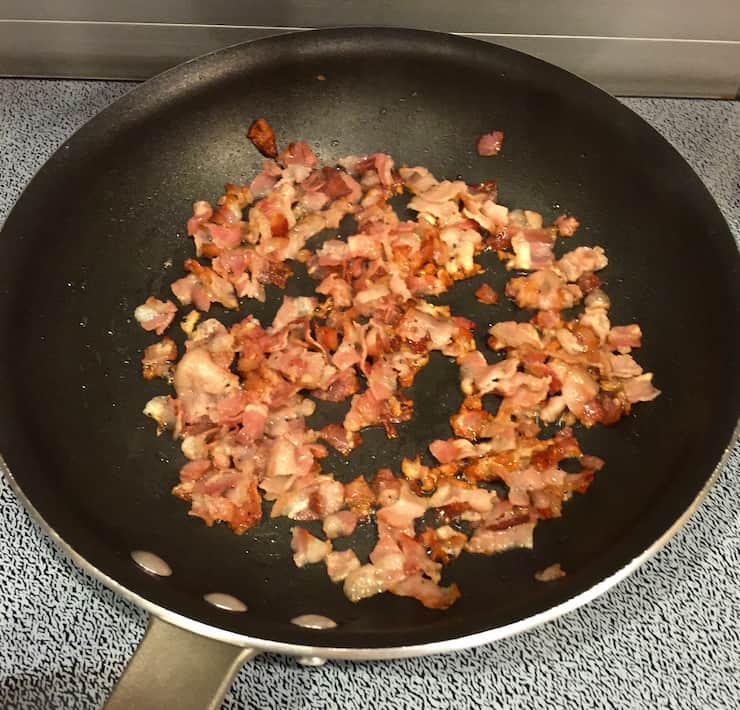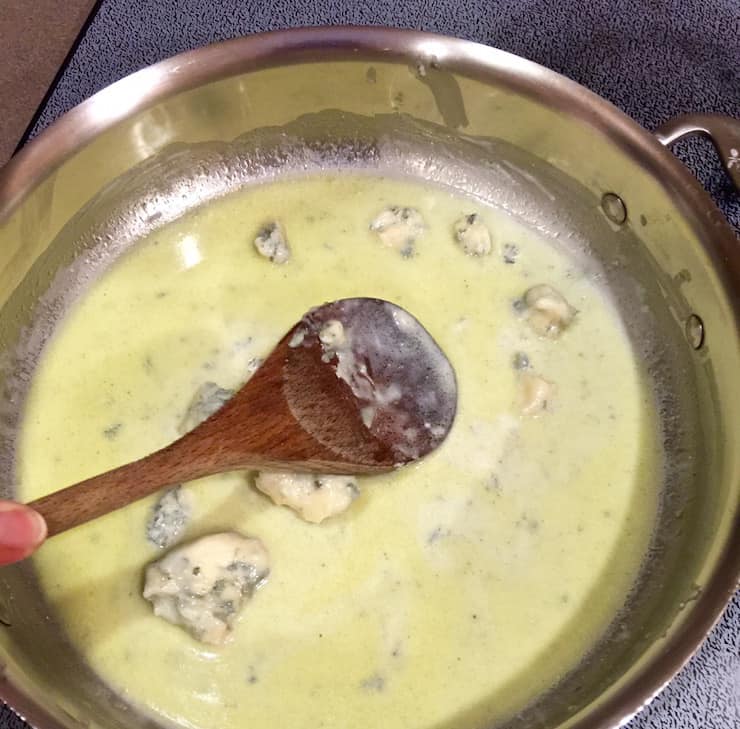 I know this sounds really rich and it is, but in a good way.  By that, I mean that this is not a gloppy, thick sauce coating the beautiful gnocchi.  The sauce is creamy and flavorful and rich and not at all heavy.  The proportions of butter, cream and cheese are just right.  To gild the lily, crispy pancetta is sprinkled over the top of the finished gnocchi.  Wow.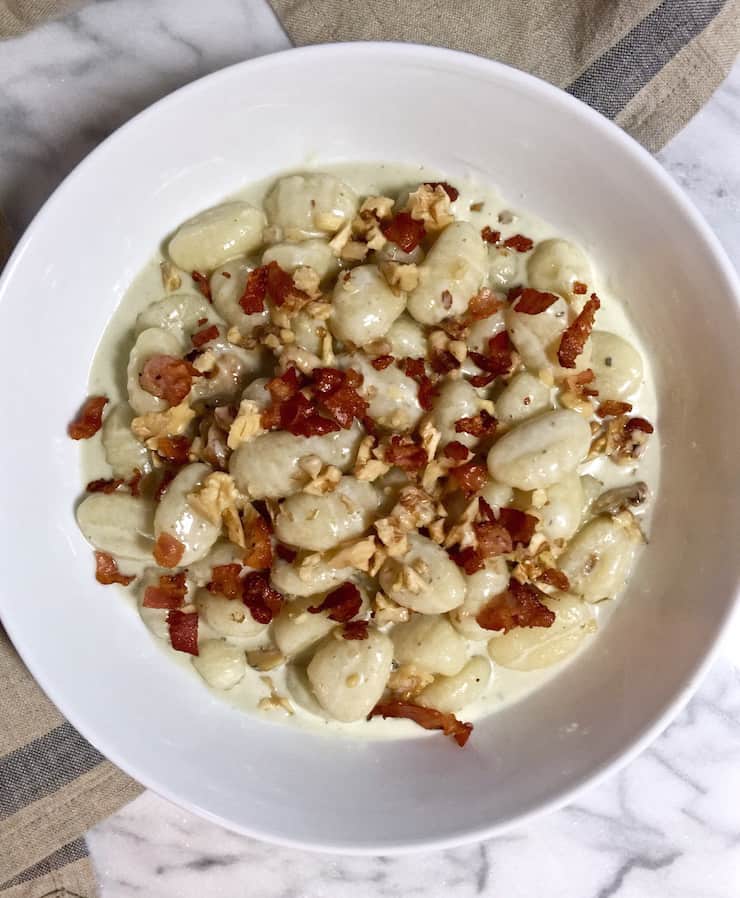 I confess, I did not make the gnocchi.  I think I tried once, years ago, and it didn't go well.  I bought mine at the store and it was very good.  My friend, Jo-Marie, makes really good gnocchi.  I remember her complaining about the organic potatoes she used once, ruined her gnocchi because they had too much water in them.  I can't imagine how mine would turn out.  I am going to have her teach me next time I'm back home, in Chicago.
This kind of dish screams special occasion to me.  I don't think I would make this during the week, but I would to celebrate something or for friends over for dinner.  Gnocchi with Gorgonzola and Walnut sauce, go for it! ~ Kelly
A couple other recipes to try for a special occasion are Braised Chicken with Artichokes and Chicken in Mustard Sauce.
If you've tried this Gnocchi with Gorgonzola and Walnuts or any other recipe on the blog, then don't forget to rate the recipe and let me know how yours turned out in the comments below ~ I love hearing from you!  HUNGRY FOR MORE?  Subscribe to The Hungry Bluebird Newsletter for a weekly email of new content and follow along on FACEBOOK, TWITTER, INSTAGRAM and PINTEREST.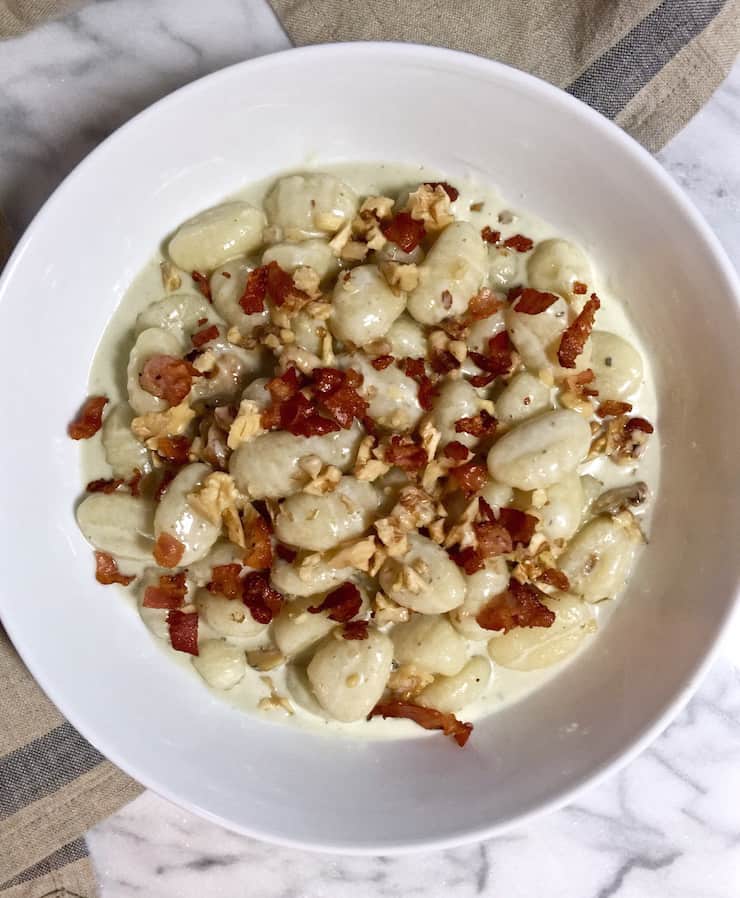 Gnocchi with Gorgonzola and Walnuts
Gnocchi in creamy gorgonzola sauce with walnuts, topped with crispy pancetta. Elegant Italian cuisine, perfect for that special dinner.
Print
Pin
Rate
Ingredients
¾

cup

walnuts, toasted and coarsely chopped

¼

pound

good quality Gorgonzola, preferably dolce, it should be creamy, not crumbly

⅓

cup

whole milk

3

tablespoons

butter, preferably a premium grass fed butter

Kosher salt

½

cup

heavy cream

One 16-ounce (1 lb) package potato gnocchi, I used Delallo brand, or frozen or homemade gnocchi

⅓

cup

freshly grated Parmiaggiano-Reggiano

4

ounces

pancetta, coarsely chopped
Instructions
In a large nonstick skillet, cook pancetta until brown and crisp, careful not to burn. Remove to paper towel-lined plate and set aside.

Bring a large pot of salted water to a boil for the gnocchi.

In a large skillet, add the Gorgonzola, milk, butter and a couple of pinches of salt, and turn heat on to low. Stir with a wooden spoon, and as it begins to melt, start smashing it with the back of the spoon, incorporating it with the milk and butter. Cook for a minute or two until the sauce has a creamy consistency. Take off the heat until ready to drain the gnocchi.

Add the gnocchi to the boiling water and simmer, they are done when they float to the top, about 3 or 4 minutes. When gnocchi are almost done, add the heavy cream to the sauce and cook over medium heat until just slightly reduced and incorporated. Remove gnocchi with a large scoop strainer and put into pan, or drain in a colander and then add to the sauce in the pan. Toss gently to coat the gnocchi. Add walnuts, reserving some to sprinkle on top, and finely grated Parmesan and toss well until it melts. Transfer to a serving dish and top with reserved walnuts and crisped pancetta, and a little freshly cracked pepper. Serve immediately.
Notes
Recipe adapted from Marcella Hazan.
Keyword:
gnocchi with gorgonzola and walnuts, gnocchi with gorgonzola walnut cream sauce, pancetta
*Adapted from Marcella Hazan, The Essentials of Classic Italian Cooking