Sunday Gravy, slow-cooked braised boneless beef short ribs and then tossed with pasta. A rich and meaty pasta sauce for Sunday supper.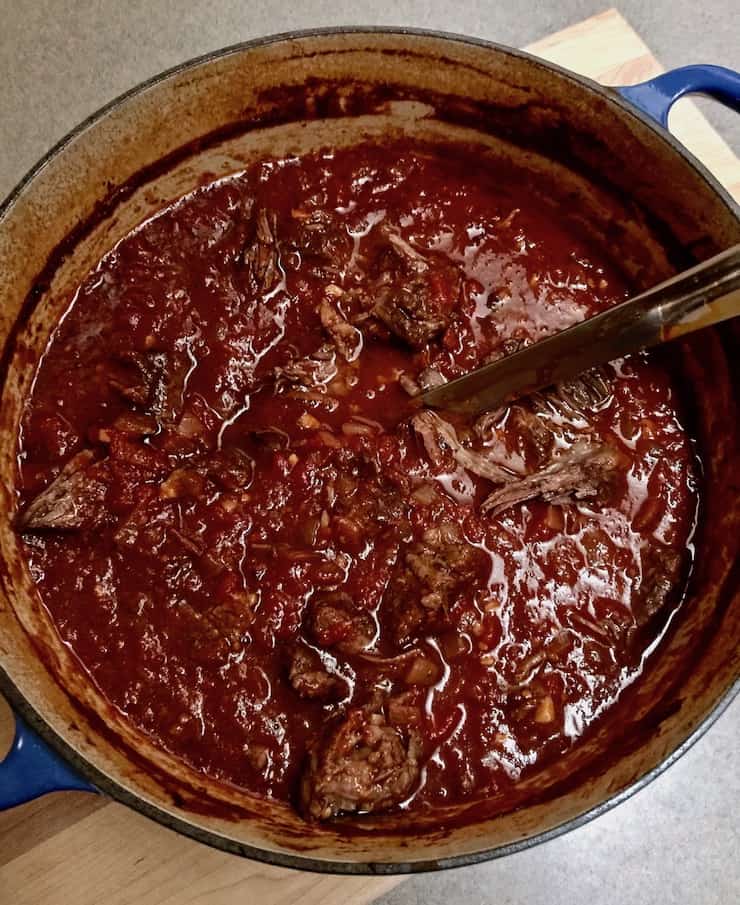 This past Sunday, I made a pot of sauce to serve with pasta. Sunday Gravy. It starts on the stove and then goes in a slow oven for 3 hours. The result is a rich and hearty sauce for pasta, filled with fork-tender pieces of meat. This gravy is to-die-for good, a sauce worthy of a Sunday family dinner.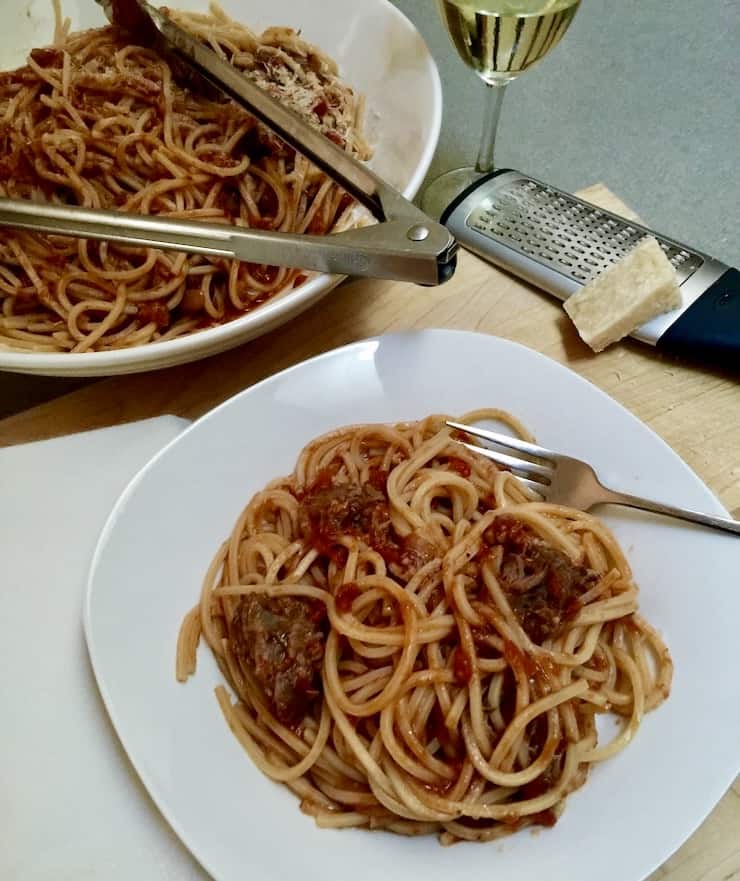 Is it sauce or gravy? I've heard both terms and several different meanings and interpretations. It's not ground meat, like a bolognese, nor a type of marinara. Gravy has large pieces of meat that are braised for several hours until meltingly tender. I have heard it referred to as both Sunday Sauce and Sunday Gravy.
But my Italian friend from the south-side of Chicago says gravy for her sauce, and she uses ground meat. And my great-grandfather's ravioli is served with sauce, or gravy, depending on who you talk to in my family, and it has no meat at all in it. To me, this is Sunday Gravy. The key word being "Sunday", a special meat sauce that cooks all day.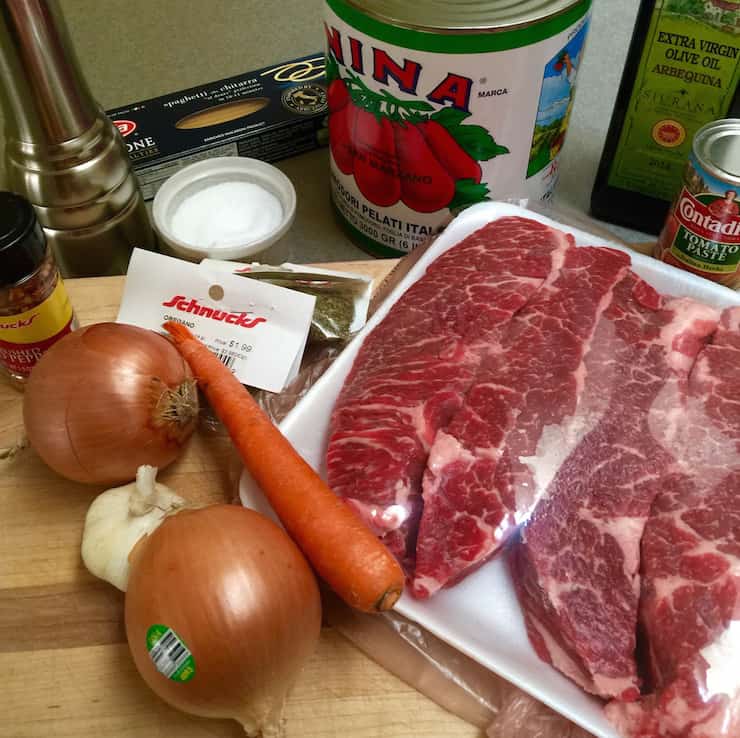 I like short ribs for this gravy, but really, you can use any braising cut of meat. Beef chuck would work, so would pork shoulder or spareribs. Sunday Gravy was a way to use whatever meat was on hand, or several cuts of meat, in a slow cooked braise to then serve over pasta.
You certainly can use what you have on hand or is on sale. Since I have two in my house who do not eat pork, I use only beef. Pork would be so good, though.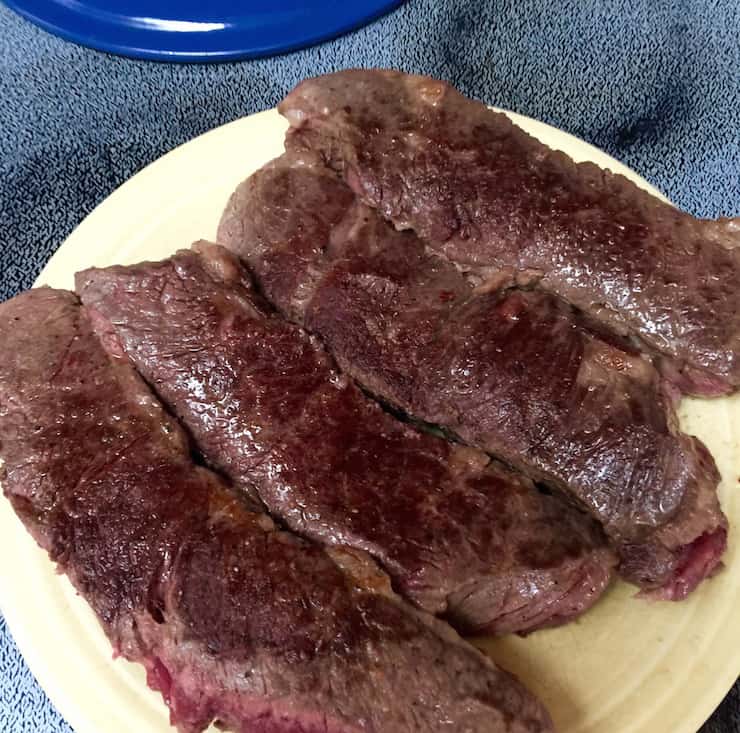 Beef short ribs. Normally I would opt for bone-in short ribs, for the incredible flavor you get from any meat on the bone. But I find boneless short ribs a better choice. They are just as flavorful and less fatty than the bone-in. Boneless short ribs are easy to shred into chunks when they are done braising. Even though the bone-in practically fall off the bone when done, they tend to have more grizzle and fat. Get what you can find, or what's on sale.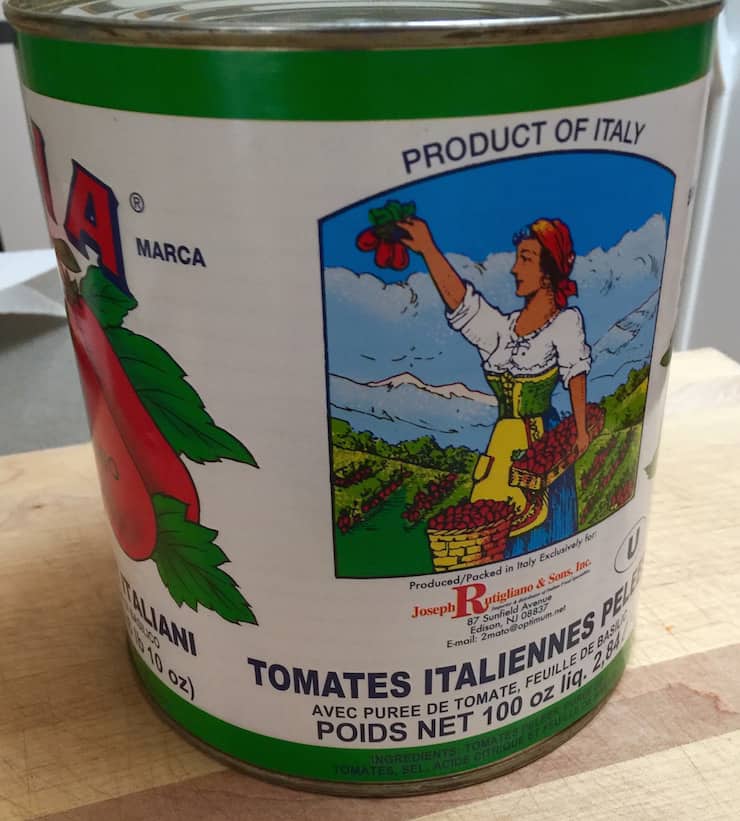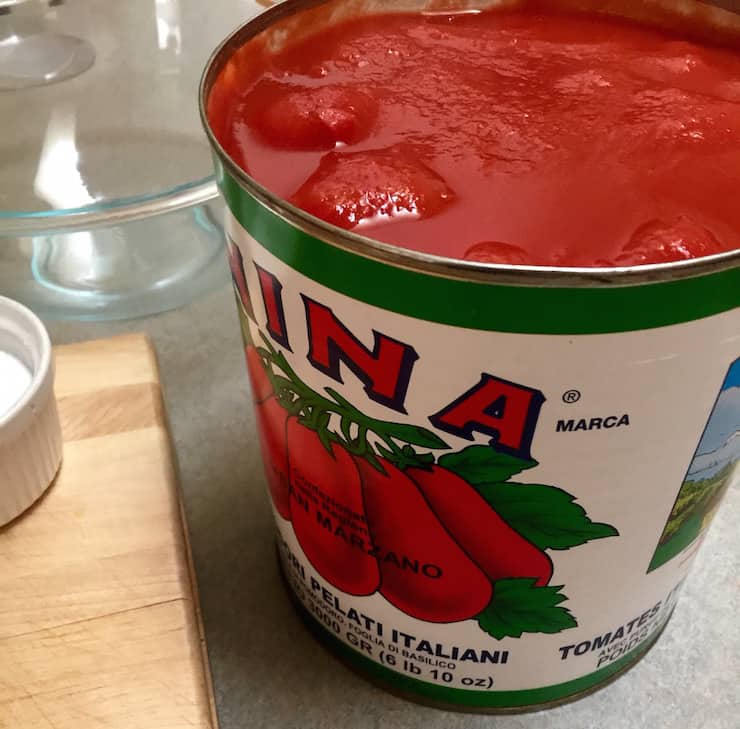 A couple of things are key to making this gravy. Browning the short ribs and canned San Marzano tomatoes. Properly browned meat yields flavor folks, nicely caramelized and brown, not gray. Italian San Marzano tomatoes are meaty and tender. Buy them whole and crush them by hand. I bought a giant can, cost the same as one 28-ounce can, and the label was so pretty.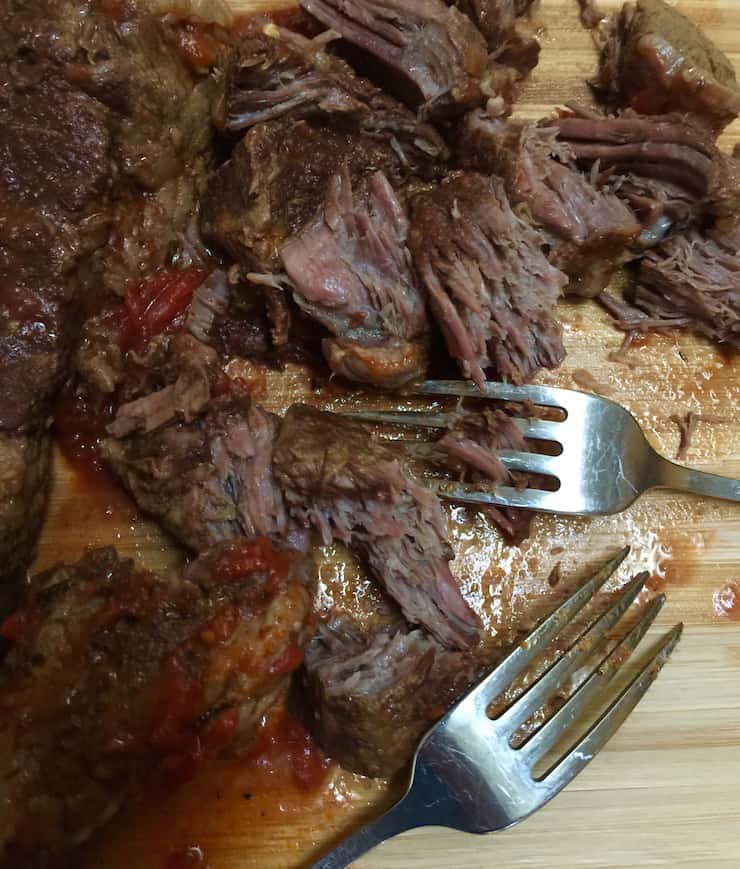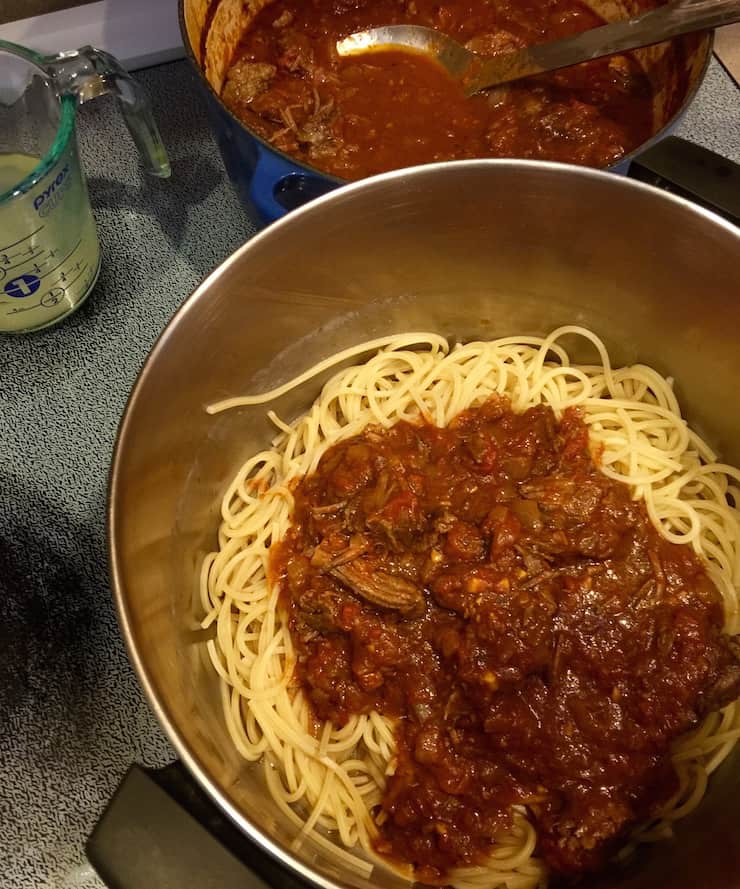 The pasta. This too can cause much debate. I like spaghetti, fettuccine or pappardelle. I had spaghetti on hand, so that's what I used. Rigatoni and penne would also work well with this hearty sauce. Simmer the al dente pasta in the same pot with the gravy for a couple of minutes to completely coat the pasta with the rich, beefy gravy. Some grated parmigiana reggiano on top and you've got an authentic Sunday Italian dinner.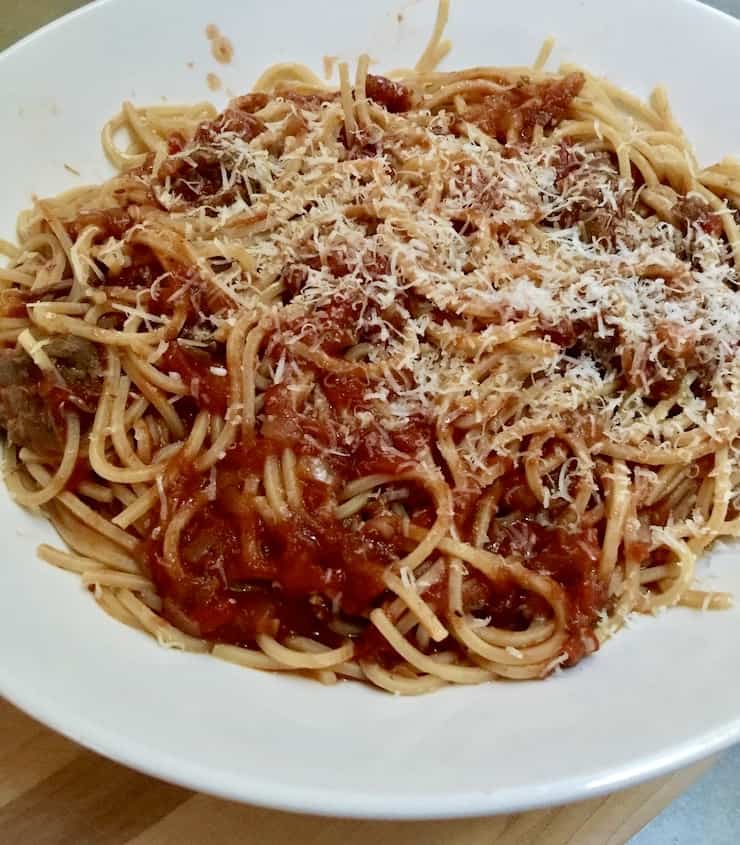 A little red wine in this braise would be really good. I like red wine but red wine doesn't like me, I never have it on hand. I buy it when I need it for a recipe, and I have often cooked with red wine. I didn't put any wine in this sauce. If you want, put about a cup of red wine in the pot just before you add the tomatoes. Let it reduce just a minute or two to mellow the alcohol.
There you have it, Sunday Gravy. Gather the family around the table, serve up this Italian pasta with meaty gravy, enjoy the forks clanking and slurping sounds, and treasure the smiles and laughter. Best, Kelly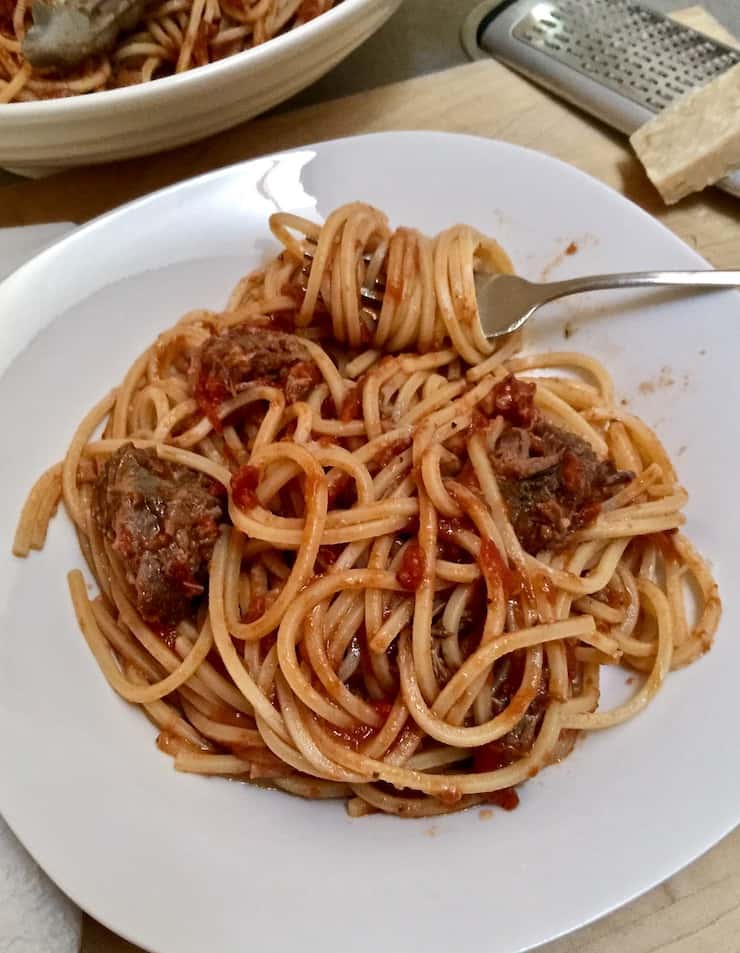 You might also like these pasta dishes:
HUNGRY FOR MORE? Subscribe to my Newsletter and come hang out with me on INSTAGRAM, or give me a follow on FACEBOOK or see what I'm pinning on PINTEREST.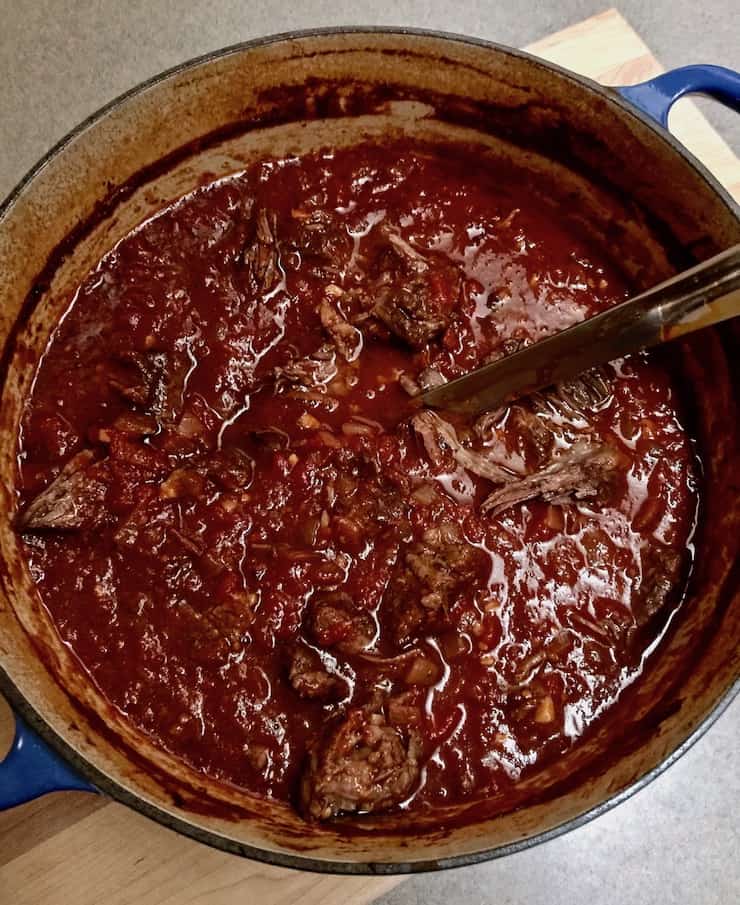 Sunday Gravy
Meaty sauce for pasta made with beef short ribs ~ perfect for Sunday dinner.
Print
Pin
Rate
Cuisine:
Italian/American
Ingredients
2

tablespoons

extra-virgin olive oil

3 - 4

pounds

boneless beef short ribs

Kosher salt and fresh cracked pepper

2

medium onions, finely chopped

2

tablespoons

tomato paste

3

garlic cloves, minced

1

teaspoon

dried oregano

1

teaspoon

dried basil

1/2

teaspoon

crushed red pepper

Small piece of parmesan rind, about an inch

Two 28-oz. cans of Italian San Marzano tomatoes, crushed by hand

1

whole medium carrot, peeled

2

pounds

spaghetti

(or pasta of choice)
Instructions
Preheat oven to 300º

In a large enameled cast-iron dutch oven, heat olive oil over moderate heat until shimmering. Season the short ribs with salt and pepper. Add to the pot in one layer and brown well on both sides, about 10 minutes. Transfer short ribs to a plate.

Reserve 1 tablespoon of fat in pot. Add onions and a generous pinch of salt. Cook, stirring occasionally, until nicely browned, about 5-6 minutes. Add the tomato paste, garlic, oregano, basil, and crushed red pepper, stir until fragrant, about 2 minutes. Add the crushed tomatoes and their juices, the carrot and parmesan rind. Season with salt. Bring to a simmer.

Return the short ribs and their accumulated juices to the pot. Turn a few times and nestle into the sauce. Bring back to simmer, cover and transfer to oven.

Braise in the oven for 3 hours until meat is very tender. Remove from oven. Skim fat from top, leaving some, again, for flavor.

Transfer meat to cutting board. Discard carrot and parmesan rind. With two forks, shred meat into 1-inch chunks. Return meat to sauce and season with salt and pepper.

In large stock pot of boiling, salted water, cook spaghetti until al dente. Drain, reserving 1 cup of cooking water. Transfer pasta to pot of gravy and toss and simmer for 1-2 minutes. Add some pasta water if it seems too thick. Serve immediately in large bowl with grated parmesan cheese.
Keyword:
Sunday gravy, Sunday sauce, beef short rib pasta sauce, meaty pasta sauce
Adapted from Food & Wine, September, 2014